shooting wedding photos in the mid-day sun, using off-camera flash and a large softbox
Shooting under the mid-day sun is always a tough scenario we face as photographers. Recent topics here have included shooting wedding portraits in bright sunlight, as well as taking photos in harsh sunlight. These techniques mostly revolve around adapting to the harsh light. We can often sidestep having to work in the hard sunlight by positioning our subject so the light is more flattering.
Sometimes though, these alternatives are out of our hands, and decisions are made for us. Then we have to deal with the hard sun with the only other option that will give good results – overpowering the hard sunlight with lots of off-camera flash.
If you find these articles interesting and of value, then purchasing your photography equipment & other goodies through these affiliate links would be a great help in maintaining this site. Thank you!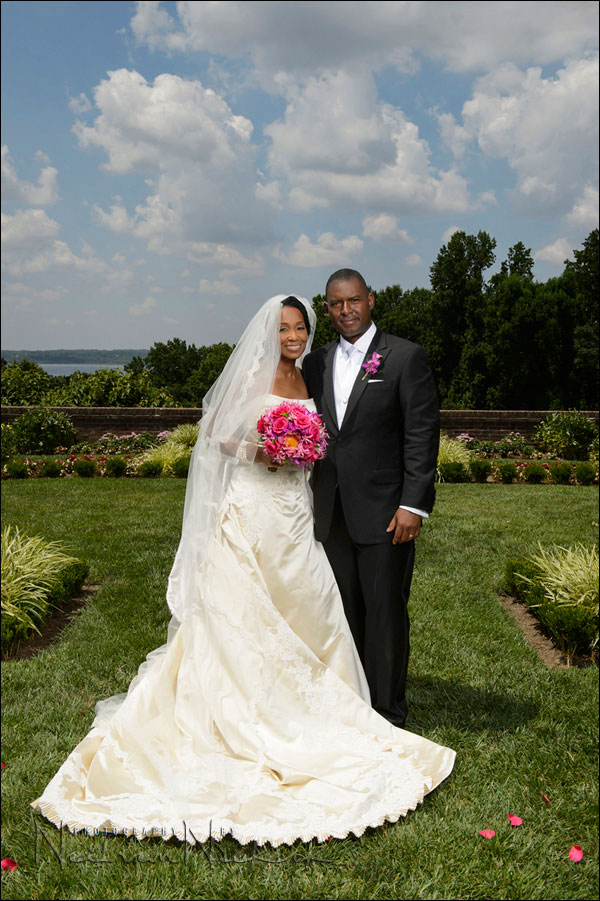 With Aluanda & Clarence's wedding at the historic Oxon Hill Manor, I anticipated beforehand that we might have to do the family photos on the site of the outdoor ceremony. The weather forecast for the day was that it would be a hot day with lots of sun. Little chance of relying on cloud cover.
The Sunny 16 rule tells us that hard sunlight is in the order of 1/100 @ f16 @ 100 ISO … which becomes approximately:
1/250 @ f11 @ 100 ISO
The reason for the choice of 1/250th is that it is the maximum flash sync speed for my camera, and the flash that I was going to use, couldn't go into high-speed flash sync. Then maximum flash sync speed really is the best choice for shutter speed.
The sequence of images that I shot here, were all at 1/250 @ f13 @ 100 ISO
Of course, I had to shoot in RAW, since I needed the flexibility of the RAW format to be able to easily adjust the Shadows and Highlights, Blacks and Whites, and Contrast. Very often, the notion of "getting it right in camera" as a justification to shoot in JPG, just isn't practical. Then we need to rely on RAW. Which means, I always shoot in RAW.
The light that I used here is the same that I used during this photo session with two models, Sarah & Mark, as described in the article on overpowering the sun with flash. It is the Profoto AcuteB 600R which, even with a double-baffled 4×3 softbox, can match the sun's brightness. This kit has been superseded by the newer Profoto AcuteB2 600 AirS/R Power Pack  (B&H). The softbox is the Profoto Heat-Resistant Softbox RF 3×4′ (90x120cm) (B&H)
The beauty of using such a powerful light on location, is that you can use a big softbox, and still dump that much light. The light is that perfect combination of being very powerful, and being soft enough to easily be flattering. Working with a bare speedlight can be challenging because it is a small light source.
With the need to work fast, and have a quality light that is strong enough, nothing beats these kinds of lights like the Profoto AcuteB / AcuteB2. Of course there are many alternatives on the market, like the AlienBee and Einstein and Elinchrom units. The point here is that often enough, speedlights just don't cut it, and then we have to pull out the bigger units that can deliver a lot more juice.
equipment used:
Nikon D4  (B&H);  Nikon 24-70mm f2.8G ED AF-S  (B&H)
updated equivalent: Profoto AcuteB2 600 AirS/R Power Pack  (B&H)
Profoto Heat-Resistant Softbox RF 3×4′ (90x120cm) (B&H)
more images from this wedding:
- on my wedding photography blog
- album of images on Facebook
newsletter / forum / workshops & seminars
Stay informed of new articles via the monthly newsletter.
Also join us on the Tangents forum for further discussions.
If you need more direct help or instruction on flash photography,
I do present workshops & seminars and also offer individual tutoring sessions.
If you find these articles interesting and of value, then you can help by
using these affiliate links to order equipment & other goodies. Thank you!