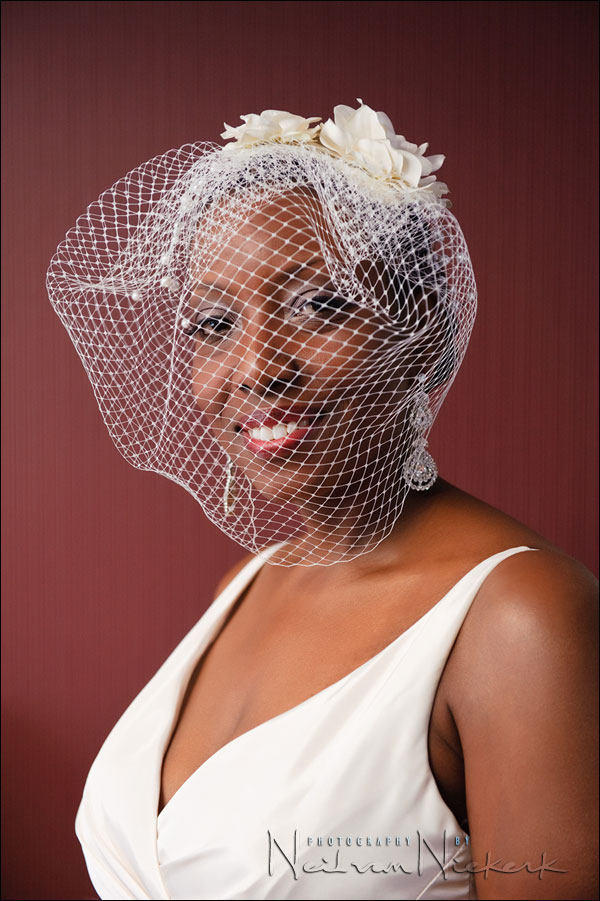 Bounce flash photography – bridal portrait
As another example of bounce flash technique, here is a portrait of the bride from a recent wedding. The technique is quite simple, and should be obvious by now to regular readers of the Tangents blog:
I used a wide aperture, focused on the eye closest to the camera .. and bounced my flash towards the bride, but blocked by the black foamie thing.  No direct flash.  No diffuser cup.  No tupperware on your flash.
Because of this indirect directional light, we have this broad swathe of light coming in from camera-left.  The intention was to mimic window light. The nearest window didn't have much impact though on the final image.  I was more concerned by getting a clean enough background, devoid of hotel-room clutter.  I wanted that deep red wall-paper behind her as the single background element.  A simple composition to help make the image more striking.
Focusing was tough, since the bird-cage veil got in the way.  So I had my assistant delicately lift the veil. As soon as I grunted a "got it" to indicate that I've locked focus properly, he would gently drop the veil into position again.  I could then fire off a few frames.  And there we have it – a strikingly effective, yet simple portrait of the bride.
Camera settings & photo gear used (or equivalents)
On-camera flash modifier – the black foamie thing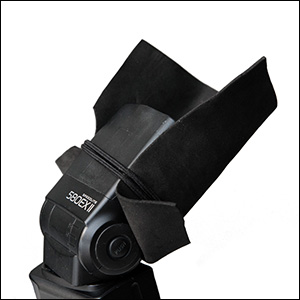 I use the black foamie thing (BFT) as a truly inexpensive flash modifier to flag my on-camera flash to give me lighting indoors that truly look nothing like on-camera flash.The
piece of foam
(
Amazon
), can be ordered via this link. I cut the sheet into smaller pieces.
The BFT is held in position by two
hair bands
(
Amazon
), and the BFT is usually placed on the
under-side
of the flash-head.
The linked articles will give clearer instruction, especially the
video clip on using the black foamie thing
.