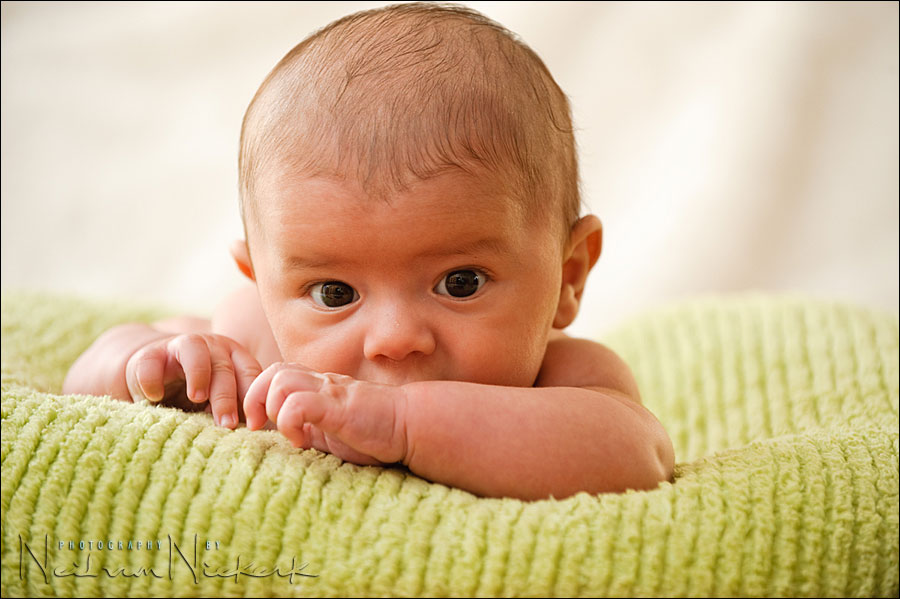 combining flash and ambient light
Going by the emails that I receive, one of the areas that many photographers struggle with is that of combining ambient exposure and flash exposure.  This question  is also expressed in other ways.  It can be a frustrated, "where do we even start?"  I also often see it expressed as an involved step-by-step deconstruction of technique, making the entire process more complex than it is.
In reply to that, and many other emails I've received in the past few months, I'd like to offer an analysis of a few images from a recent shoot.
One of my favorite clients has the most adorable baby boy that she wanted some portraits of. I had to shoot fast, since his attention span was .. oh, zero. He's still a baby! I also wanted to be able to cover myself in getting some available-light only portraits, and some with bounce flash.  I didn't want the flash to be overwhelmingly bright.  And in bouncing the flash, there was also less chance of disturbing the baby.  So I had to mix it up in order to get some variety, and be sure of images that worked.
The image at the top was shot with the Nikon D3 and the Nikon 70-200mm f2.8 AF-S
Lighting here was a combination of available light and bounce flash.  And as usual, I used the black foamie thing to flag the flash so NO light from the flashgun fell directly on the child.
camera settings:  1/100 @ f4.5 @ 640 ISO, using TTL flash
The FEC was not recorded, but would've been around 0EV because my flash isn't merely fill-flash here, but fairly dominant.
Now where the settings look like they might be informative, I also often feel that these numerical values are a diversion.  Too many photographers will get hooked on the choice of f4.5 over another aperture.  Why 1/100th of a second?  Why 640 ISO?
The truth is that this could've been a different combination of settings.  What is important here, is the quality of light.  It is our major concern here, and should interest us more than f4.5 at this moment.
The light on the baby's face is directional.  There is more light coming from camera left .. and from this you should be able to deduce that I did indeed bounce my flash to my left.  Using that piece of black foam to flag my flash, I was able to get directional light like that.
The light is soft. Since I bounced my flash into the room, and it bounced off the walls, and furniture, I will have soft light.
So those two aspects of the light from my flash is easily understood – soft directional light.
Now let's look at how I chose to balance my flash with the available light …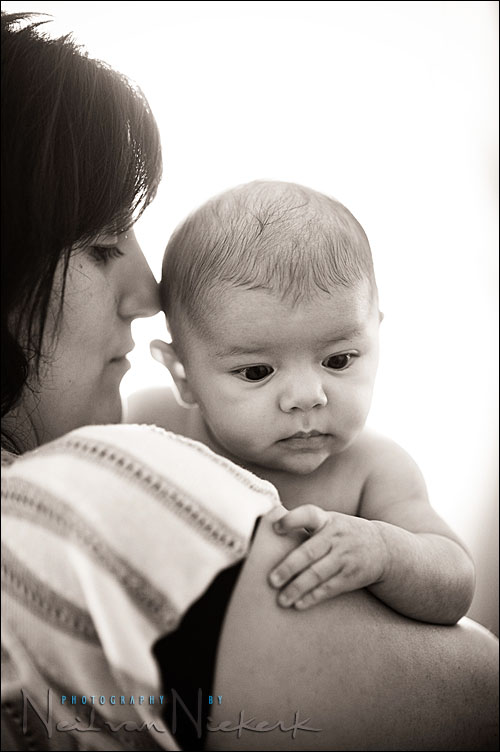 In that bedroom there was enough light for available light portraits of the baby, and I made sure to get that.
Camera settings:  1/200 @ f1.4 @ 1000 ISO; no flash
I shot this with the 85mm f1.4 since I needed the wide open aperture for two reasons – the low light levels, and for the specific look that the razor-thin depth-of-field would give me.  Since the baby did move a fair amount in his mother's arms, I machine gunned it to an extent to make sure I had a few key images that were actually crisply sharp.
There is the base exposure – my ambient light with no flash … for this specific scenario with the baby turned away from the window light in his mother's arms.  If I had moved position and shot with the incoming light, my exposure would obviously have been vastly different.  But I wanted this high-key look.
So there I have the exposure at which the baby is correctly exposed for the ambient light.  If I chose a slower shutter speed and higher ISO here, I'd have over-exposure.  I can't go "that way" in my exposure.  Where I can go with my exposure … is under.  I can under-expose my subject and then add flash to make up for the lack of ambient exposure.
So by how much can I under-expose my ambient light (and add flash for the difference)?  Here we get to the crux of this article – how do you decide?  How do you decide what your settings should be and how much flash should you add?
Here's the answer … you decide.   There is such a wide range of possible settings here, that there is no real correct answer here.  My main consideration is that the lighting (for my tastes) remain soft and directional and complements my subject.
Here is another image in the sequence, but with flash: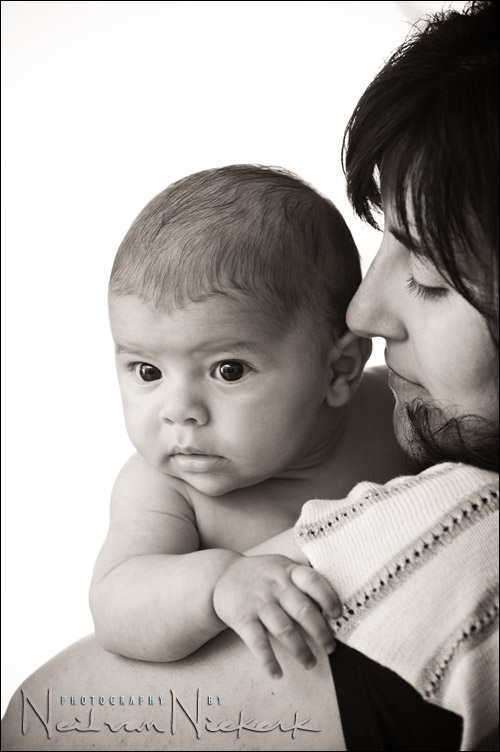 Camera settings:  1/80 @ f5.6 @ 640 ISO;  TTL bounce flash
Here again I used the 70-200mm f2.8 zoom, and at the 200mm setting.
The shooting scenario was exactly the same – the baby's back was towards the curtained window-light.
The difference in ambient exposure is just over 3 stops.  Without the flash, the baby would've been severely under-exposed.  So the light you see on him there is primarily the bounced flash.
How did I decide on my settings?  To a fair extent they were random.  Since f1.4 is such a shallow depth-of-field, I wanted to make sure I had images that were sharp, so I picked f5.6 … but it could've been f4 … or f4.5
Similarly, why 1/80th shutter speed?  It didn't really matter.  I don't want to go too slow and risk camera shake, but I also didn't quite need 1/250th here.  So anywhere sensible would be good.
Looking again at my base exposure – ambient light at 1/200 @ f1.4 @ 1000 ISO … any exposure where I under-expose the ambient light, and then add flash, would've worked.  I could've had a studio light (and risked the discomfort of the baby) at 1/250th @ f11 @ 100 ISO.   Anything in between that, and the correct ambient-only exposure, would've worked.
That's a HUGE range over which I could've had my settings.  But in the end, I just need enough depth-of-field.  And this time, I'm happy with an aperture of f5.6 but another mid-range aperture would've been fine too.  I need the baby's eyes in focus, even if he moves a little, and for that, f5.6 is fine.   The same kind of reasoning goes for the choice of shutter speed and ISO.
With that, let's look at the top image again, and answer a few questions: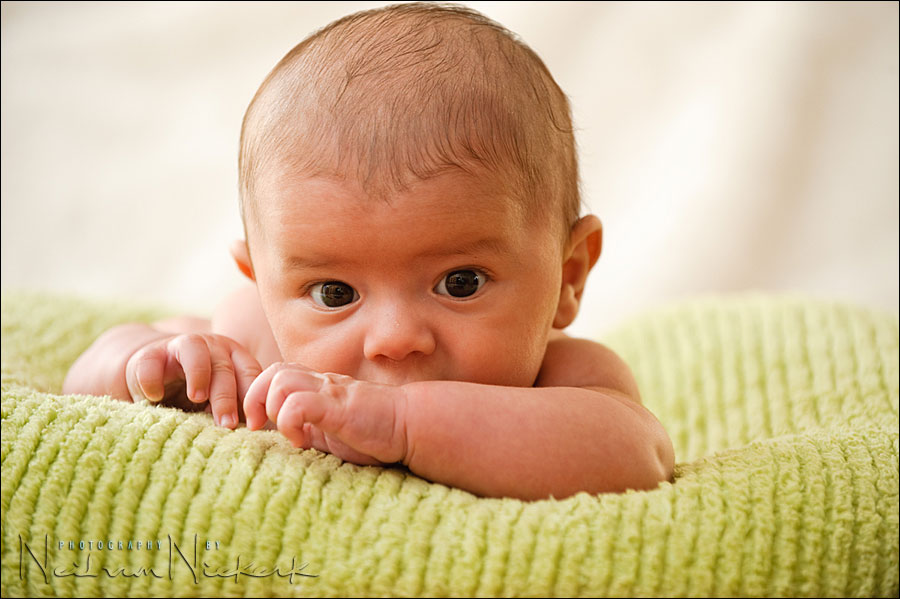 1/100 @ f4.5 @ 640 ISO; TTL bounce flash
Why TTL flash and not manual flash?
No particular reason, except that I find TTL flash is faster to work with here.  The TTL flash metering gives me a head-start in getting correct exposure.  This I nudge up or down as I need to.
Why bounce flash and not the strobist route with a softbox?
Speed and efficiency.  I can be ready to shoot as I walk into the room.  No setting-up required.  Also, lack of space in the bedroom is a problem.  Therefore, in this instance, bounce flash got the results I wanted, and much faster than I could've if I had decided to set up off-camera lighting.
How did I meter for the TTL flash?
I pre-judged the scene.  As mentioned earlier, the flash here isn't mere fill-flash but more dominant than that.  I also know from experience that a back-lit scene needs a bit more FEC than a normal scene.  Therefore my FEC was around the 0EV range.  Adjustment was to taste, according to what I saw on my camera's preview.
How did I meter for the ambient light?
By checking my camera's built-in meter, and knowing I want the background to be lighter.  It's not an average tone.  I could take my time and meter for the scene and decide on tonal values and get all Ansel Adams on this … or I could get a general reading from my camera, and take a test shot.  I want the baby a tad under-exposed, so I can take up the slack with bounce flash.  In doing it this way, I am able to open up the light on his face.
summary
Ultimately, in using flash indoors like this, I want the ambient light under-exposed to an extent at least, so that with bounce flash, I can achieve an open, clean look.  With this, the specific numeric values of my camera settings aren't all that important.  (I don't want to go over maximum sync speed here though.)
My main concern is direction of light and quality of light … and concentrating on getting the endearing expressions that his mother wanted me to capture.  Mood and expression – the essence of portrait photography.
related articles
– how do you meter for TTL flash & ambient light
– black foamie thing
– bounce flash portrait – a consistent technique
– my favorite lighting setup to photograph kids indoors – bounce flash!