Flash photography techniques
Intro page  ~  Natural looking flash  ~  Flash & ambient light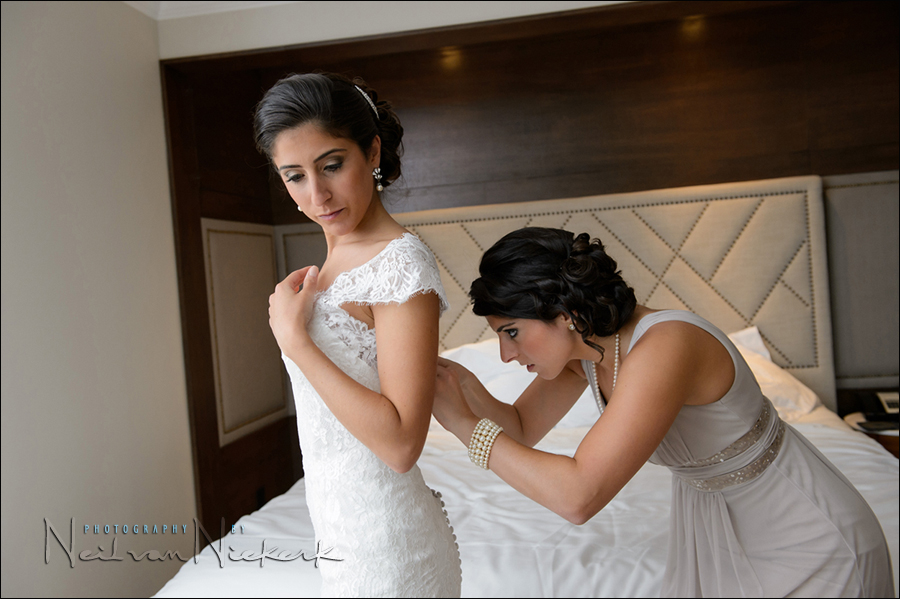 Making flash not look like flash
I use flash very often in my professional work and personal work.  But I try and make the use of flash not appear intrusive in the photograph.  I nearly always have an on-camera flash, but I try to diffuse it or bounce it wherever possible. I use as little direct flash as I can, except outdoors where I try and use available light, and use flash only to lift the shadows and reduce the contrast. However, sometimes it is just best to overpower the ambient light with flash – but still try to make it look natural, ie, not like flash.
Let's start off with these few photos. They were all done using flash on camera.
You'll note that there is no discernible flash shadow. I absolutely loathe a distinct flash shadow. So that's the ideal that I always strive for – that it shouldn't be obvious that I didn't just use existing light. It isn't always possible, but that is what I try for in every photograph.
Indoors, where there are surface areas to bounce your flash off, on-camera flash is hard to beat as an easy light source to use.
With weddings for example – during the bride's prep and the groom's prep, I rely heavily on on-camera bounce flash to give me soft, directional light. Here are two examples where the flash enhanced the available light – the flash wasn't the primary light source, but it cleaned up the existing light to give me nice lighting on my subjects' face.
For the image at the top:
1/200 @ f/4.5 @ 1600 ISO  … 24-70mm f/2.8
On-camera speedlight, in TTL mode, bounced behind me over my left shoulder.
There was a fair amount of available light in this room, but a touch of directional bounce flash gave me a more controlled light. I still had to use the local adjustments brush to bring up a bit more detail on the bridesmaid's face.
The same approach was used for this groom's prep photo at this wedding: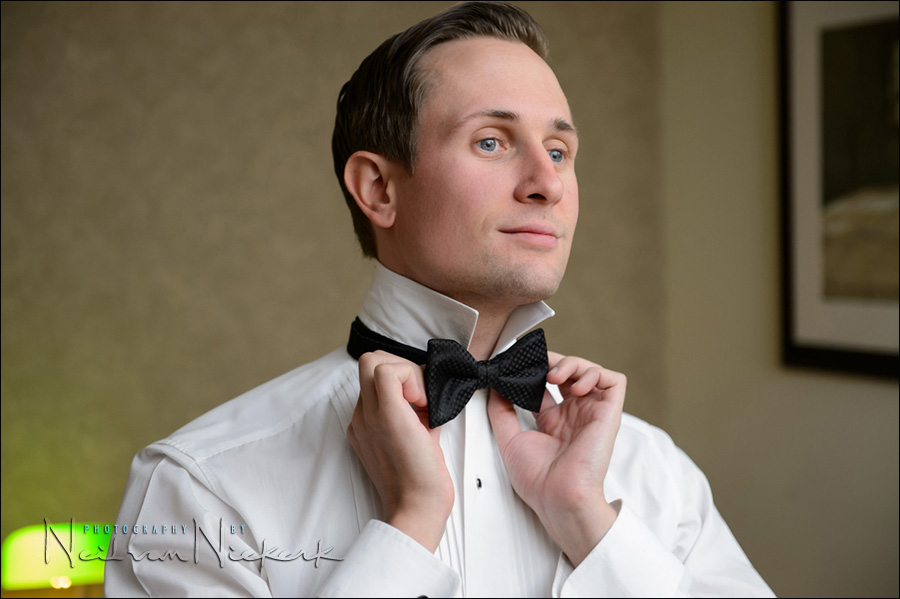 1/200 @ f/3.5 @ 1600 ISO  … 24-70mm f/2.8
On-camera speedlight, in TTL mode, bounced behind me over my right shoulder.
My flash was flagged with the black foamie thing to retain the directional quality to the light.
With the window to my right, the fall-off from the window-light was too dramatic, and I used bounce flash here to lift the contrast. But I still wanted to keep that directional quality to the light, hence I bounced my flash into the direction I wanted the light to come from. This way the flash enhanced the existing light, without becoming obvious.
With both these images, my choice of camera settings here were dictated by the available light, and I just used a hint of flash by bouncing it into the room behind me.
Note that there is NO direct flash, and hence no flash shadow. NO diffuser cup!
By making my light source larger than just the area of the small flash tube, I am immediately making my light softer. And this is exactly the reason why we bounce flash.
related articles:
 – the Black Foamie Thing
– Tutorial: Bounce flash photography
– On-camera flash light modifiers? Remove the plastic diffuser cup!
 – more images from this wedding: using the Profoto B1 portable flash at a wedding
With those two images, the flash acted as fill-light. Just a touch of light, instead of the flash being the dominant light source. With fill-flash, you will most likely have to pull down your flash exposure a bit via flash exposure compensation.
That was fill flash. Now, when the light levels on your subject is such that:
– you can't get proper exposure,
– your risk camera shake or subject movement giving you soft images,
– you need to balance your subject's exposure against the background,
then your flash has to be a dominant light source, and be the main source of light on your subject.
---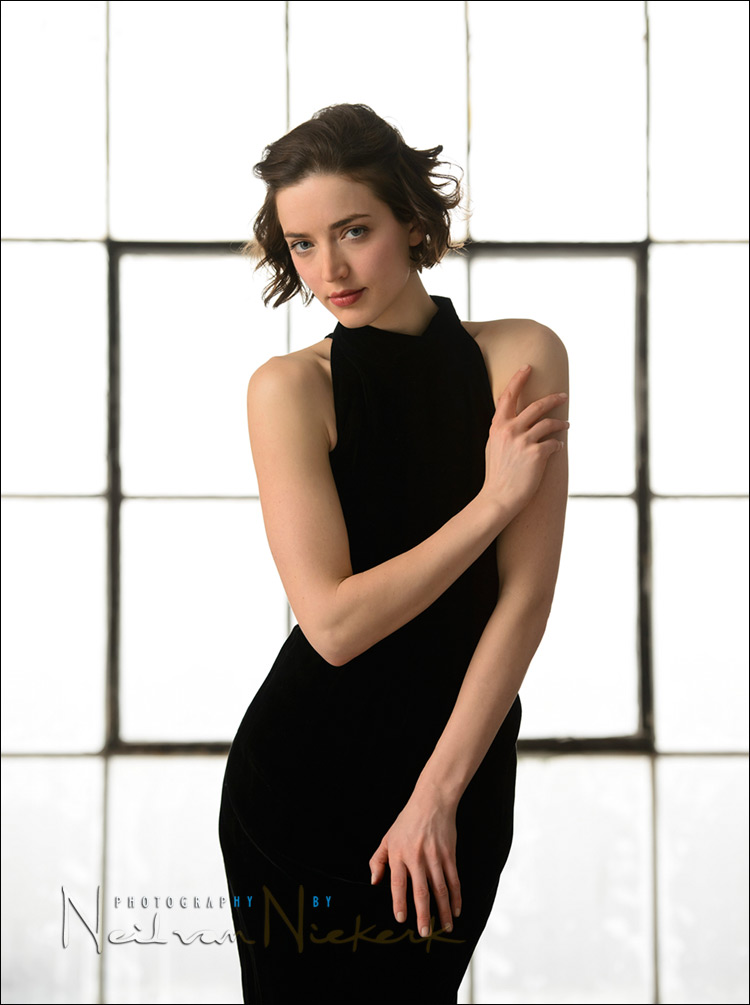 Our model, Anelisa, was lit just with on-camera bounce flash.
Note that there are no hard flash shadows, and that the light is soft, yet directional. There is more light on the one side of her face than the other.
This pull-back shot will reveal more. And this article will explain more about the camera and flash settings.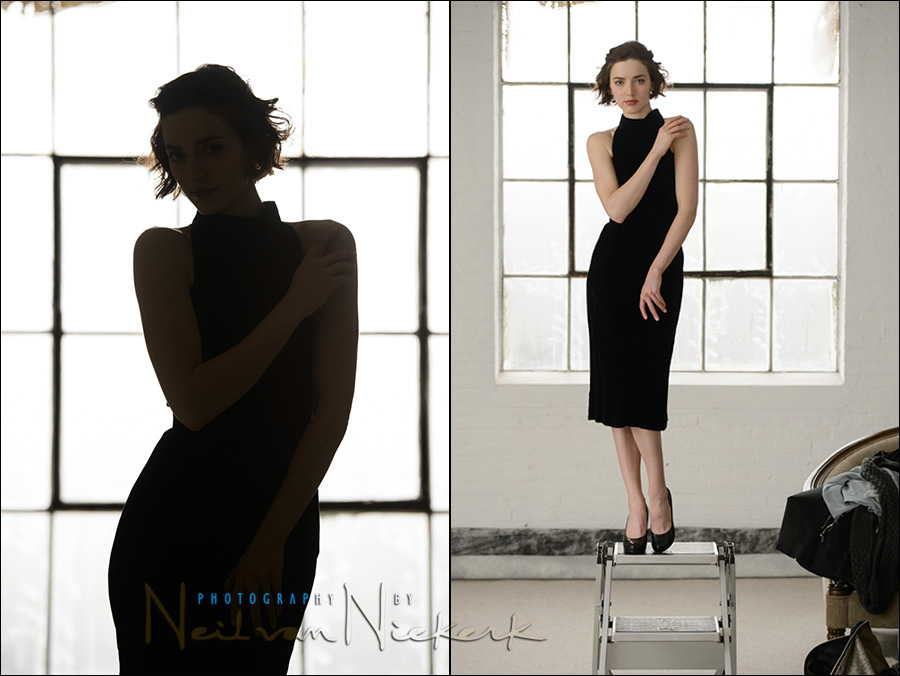 These few examples showed the range of what we can do with flash, yet still make it look natural, and not intrusively like flash was used. Of course, there is much more to flash photography than just bounce flash, but this is a good start. We'll step through some of the options and the techniques in the following pages.
Help support this website
---