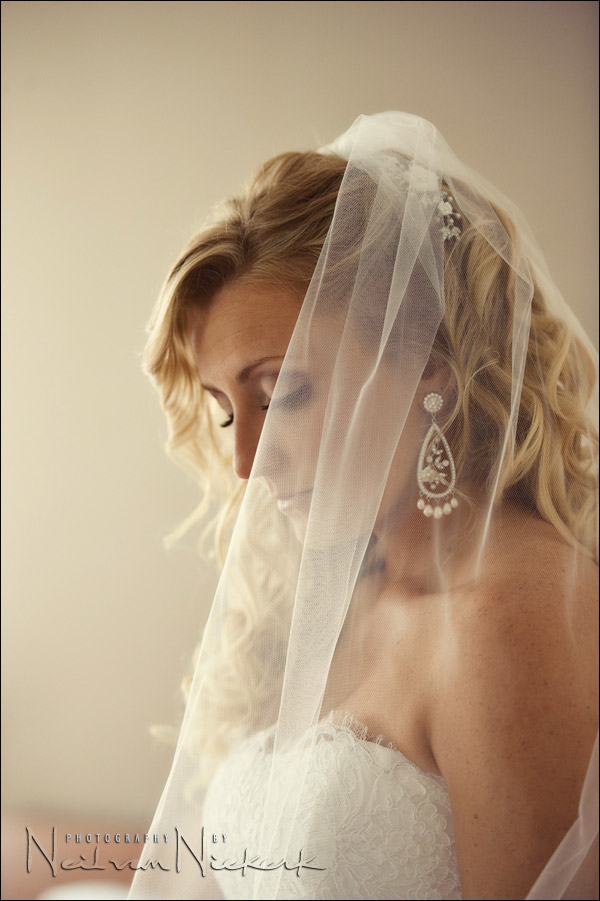 wedding photography – best lenses
With this recent review of the Nikon 24mm f1.4 the question came up about which lenses I use when photographing a wedding, and how I use them.
How do you juggle the various lenses you have for weddings and decide which ones to bring to a wedding and when to use them? Do you carry them all and just use them when you feel, or do only take specific lenses knowing what the wedding/venue will be like and know in advance that you will certain lenses at various times during the day?
Choosing which lens to use while photographing a wedding, is obviously an extension of your own style. It affects how you want to portray your subject, or the scene, through choice of depth-of-field, perspective and angle of view … or even through some special effect, such as a fish-eye lens or tilt-shift lens.
While the specific lens you use for any shot might be motivated by stylistic choice, there are also practical matters that come into play.  Sometimes the lens I choose will simply be the one already on my camera.
I also like having a wide arsenal of lenses available to me to use.  There is a reassurance in this idea, that I have the best and fastest that is available.  I want any limitations that exist, to be my own as a photographer, not because of my equipment.
So here's how I juggle lenses and cameras …
I want to keep the discussion of lens choice away from a specific system for now, and will then later on go over the specific lenses I either use or would recommend for both Canon and Nikon.
I use three full-frame camera bodies.  My two workhorse lens with which I photograph 90% of the wedding day, are the 24-70mm f2.8 and the 70-200mm f2.8 … the third body is the one I use to rotate any other lenses on. I have the 24-70 f2.8 and 70-200mm f2.8 zooms nearly permanently assigned to a specific camera.  Not changing lenses on those two primary bodies mean that I significantly reduce the chances of dust on my camera sensor.
My main two bodies both have a speedlight on them, along with a battery pack attached to the strap.  The third body doesn't have a flash.
On the third body, I rotate a variety of lenses:
– fish-eye
– ultra-wide zoom
– macro lens: 100mm / 105mm f2.8 macro
– fast medium portrait lens:  85mm f1.4 / f1.2
I carry these (or a selection of these) in a Crumpler 7 Million Dollar shoulder bag (B&H), with me where needed.  I discarded the partitions, and just have it as a big hollow flexible shoulder bag. I keep everything in Tamrac Big Wheels rolling strongbox (B&H), and work out of it, or keep it in my car … or chained to a table in the reception room, using a bicycle lock.  But during the bride's prep and the ceremony, I will have the smaller selection of lenses and third camera body with me in the Crumpler bag.
I have, but rarely use the 50mm f1.4  prime lens.
It just doesn't seem wide enough, nor tight enough.
I'd like to use the same wedding of Kristy and Tom that I showed with this recent post, to illustrate where I'd use these lenses, and the results I get:
24-70mm f2.8
As much as I love using my 70-200mm f2.8 zoom, the 24-70mm is really my bread-and-butter lens. It is the one lens without which I can't even imagine photographing a wedding.  From bride's prep to the ceremony to the formal and romantic portraits, all the way to the reception, I have this lens on the one camera on my shoulder at all times.  It is the lens I would instantly reach for if anything came up unexpectedly.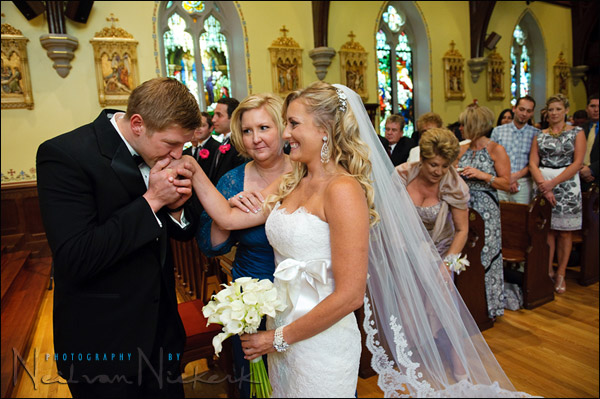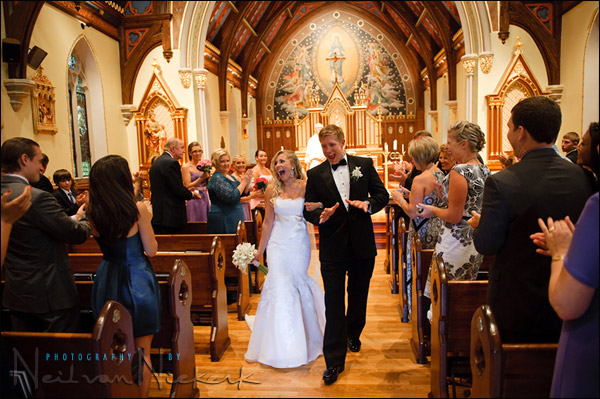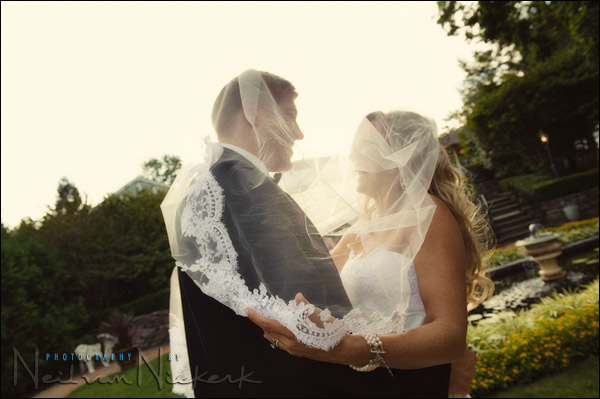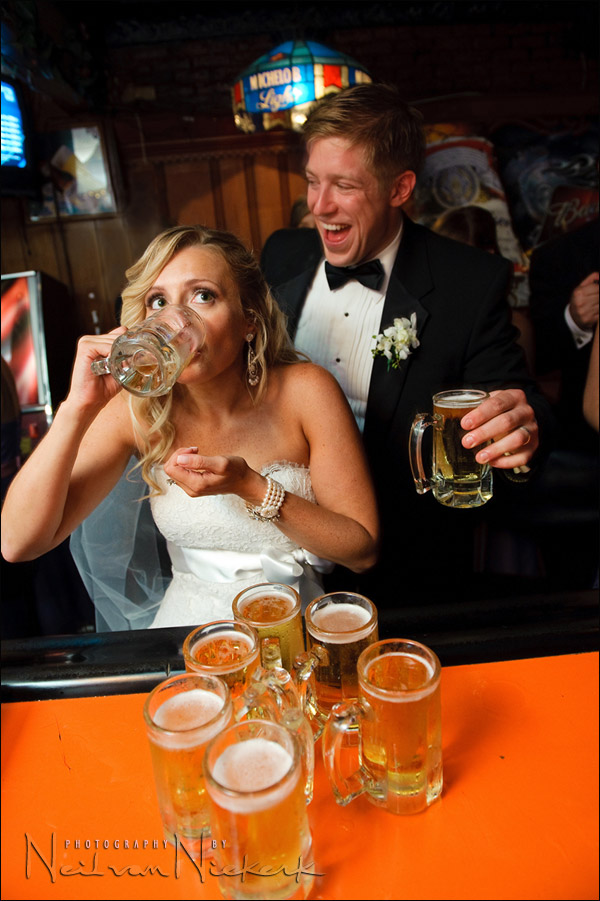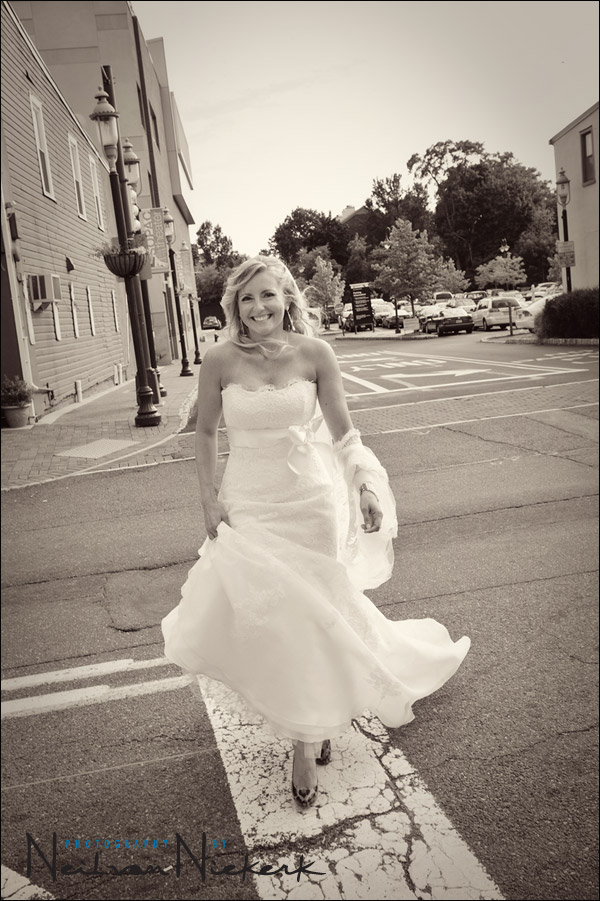 70-200mm f2.8
I do believe the 70-200mm f2.8 really only makes sense on a full-frame camera body.  Then it becomes an ideal portrait range.  On a cropped sensor camera, it is a little too tight.  The 70-200 then is the lens I use for portraits, and for use during the church ceremony.
It is also the lens I use during any of the formal dances.  I'm most definitely not going to step on the dance-floor and tap the bride and her dad on the shoulder to smile for the camera, like traditional wedding photographers might.  The distance that the 70-200 allows me, lends itself to being more of an observer during the wedding.
The photo at the top of this article was shot with the 70-200mm f2.8 at maximum aperture, using the available light in the room.
The 70-200 has to have image stabilization / vibration reduction.
This is essential in low light, as is the f2.8 maximum aperture.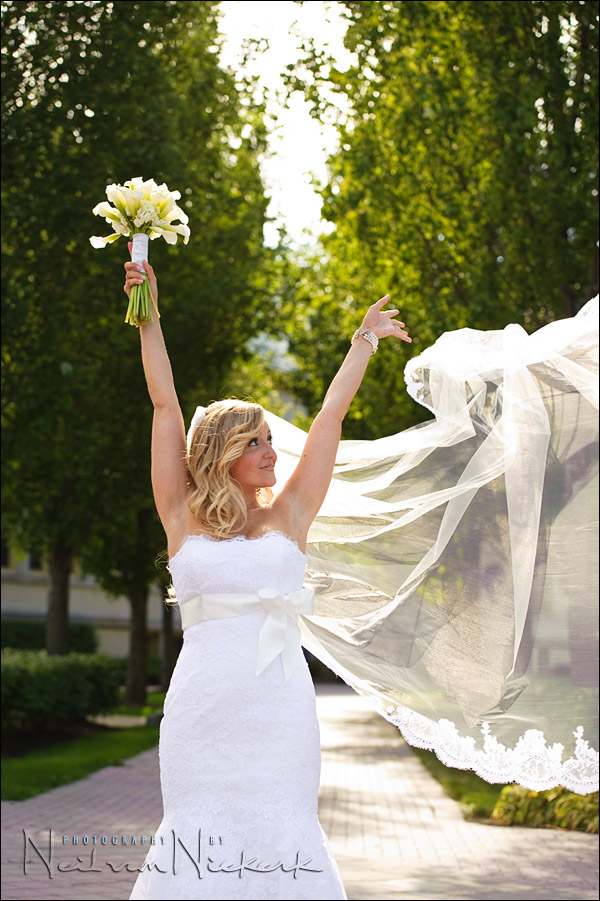 When working outdoors where I have the space, I ever prefer using the 70-200 for the formal portraits and family photos.  I really like the compressed perspective that the longer focal length allows.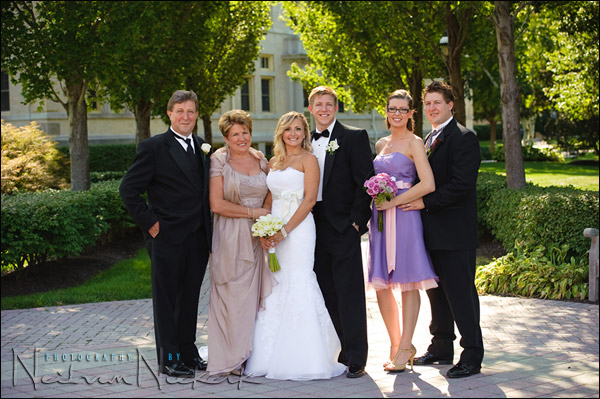 ultra-wide f2.8 zoom
I really like using this lens for scene-setters such as an all-encompassing view of the church interior and the reception room interior.  The dramatic perspective also makes for interesting romantic portraits.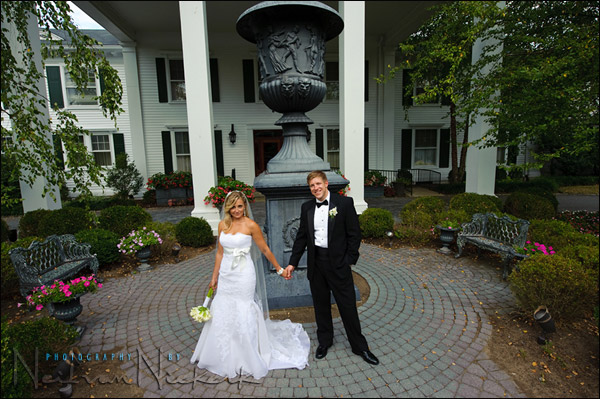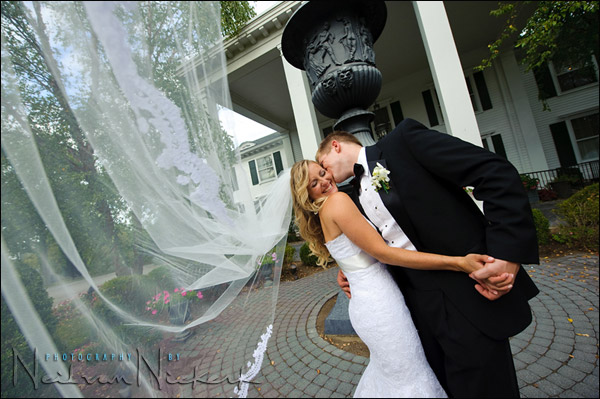 wedding photographer – Park Savoy, NJ
The venue here is the Park Savoy in Florham Park, NJ. For a wedding photographer it's a great venue, offering a  number of photogenic spots.
fish-eye lens
In my opinion this is a specialty lens, bordering on being gimmicky when over-used. But it can be effective.  Here is a full-frame shot of the bride, using a fish-eye lens.  (I used wireless TTL flash here to bring the exposure for the bride and the sky more in line with each other.  The slaved speedlight was held up high by my second photographer standing to my left.  It was used as direct off-camera flash.)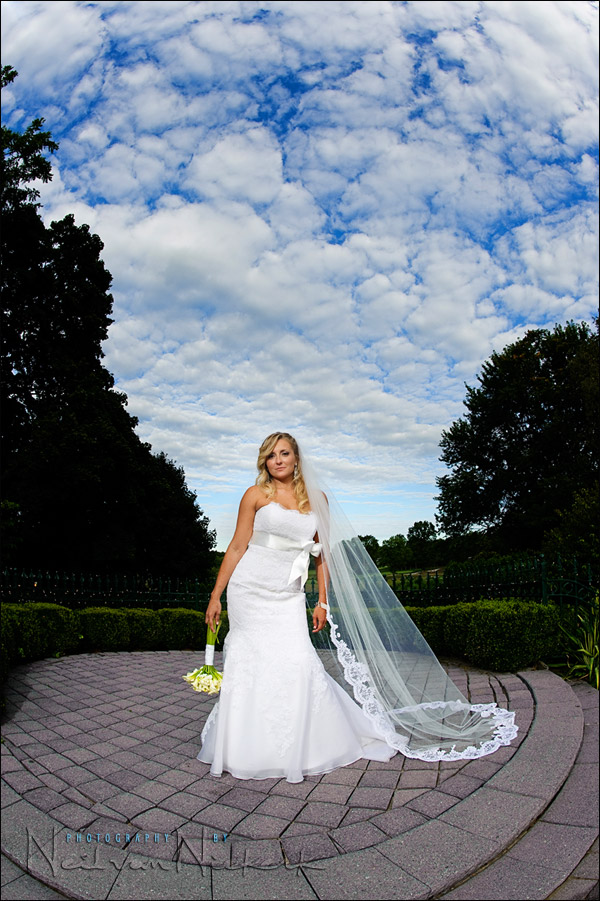 100mm / 105mm macro lens
This lens is essential for close-up details.  Here is a shot of the couple's rings, using the cake topper. The image below of the rings on the ring box, is from another wedding, just to show the use of the macro lens.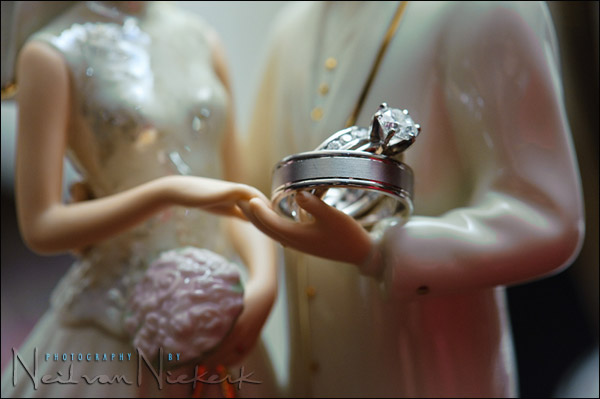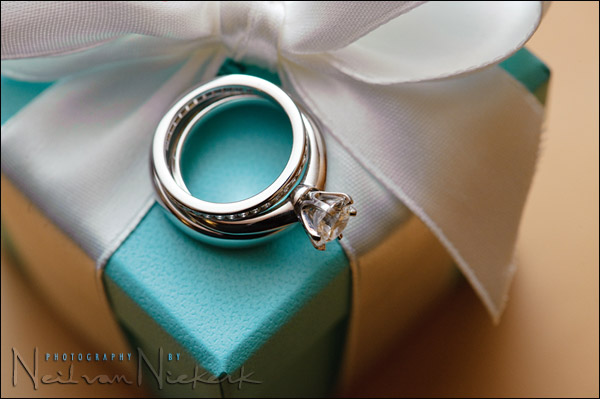 I also photograph the bride's details such as her jewelry and hair-pieces and such.  And then the lens is often just handy for a close-up portrait.  This is why I favor the 100mm / 105mm range for the macro.  The 50mm lens would be too wide on a full-frame camera to use effectively as a tight portrait lens.
This portrait of Kristy was with available light only.  It is typically a photo I would do with the 85mm f1.4 / f1.2 at close to max aperture for that distinctive shallow depth of field of the 85mm lens. But this day I had the 105mm macro handy.  It works too.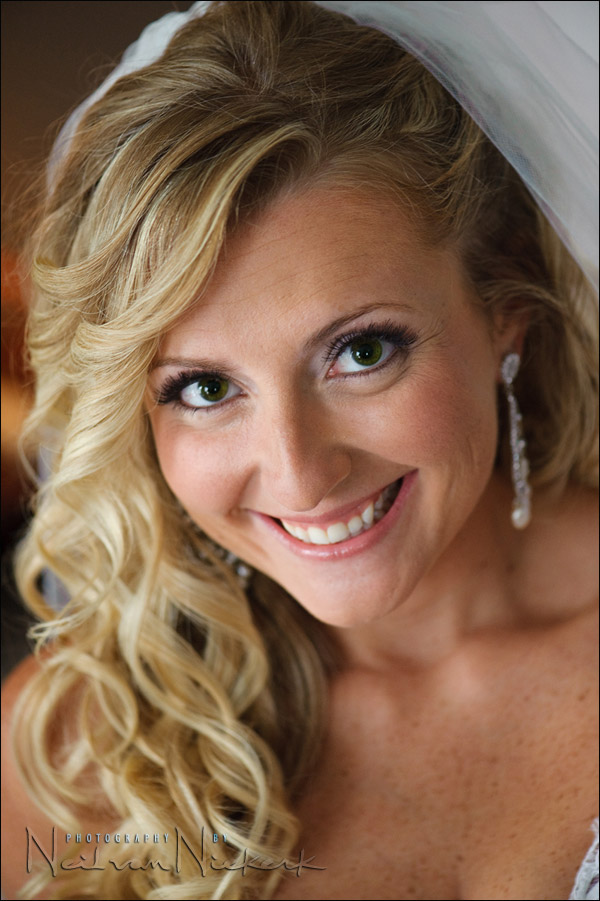 There it is in a nutshell. I rely heavily on two top-notch fast zooms, that I carry with me – each on a camera body with a speedlight. Then I mix it up with a variety of lenses for a few shots, using a third camera body.  It's a lot of weight to carry, but I try not to carry everything simultaneously. I'll put the bag down, and perhaps one of the main cameras, when I can.  However, the security of the equipment is a huge concern.  It also remains a constant balancing between the need for flexibility and moving fast … yet having the right equipment on hand.
related articles
recommended lenses for Canon
Tamron 17-35mm f/2.8-f4 Di LD
Canon EF 24-105mm f/4L IS USM
Canon EF 70-200mm f/2.8L IS USM — (my review of this lens)
Canon EF 15mm f/2.8 fisheye
Canon EF 24mm f/1.4L II USM
Canon EF 35mm f/1.4L USM
Canon EF 50mm f/1.2L USM
Canon EF 85mm f/1.2L II USM
Canon EF 100mm f/2.8L macro IS USM — (my review of this lens)
for the 1.6x crop-sensor Canon DSLRs, I would recommend:
Canon EF-S 17-55mm f/2.8 macro IS USM
recommended lenses for Nikon
Nikon 14-24mm f/2.8G ED AF-S
Nikon 24-70mm f/2.8G ED AF-S
Nikon 70-200mm f/2.8G ED AF-S VR II
Nikon 16mm f/2.8 AF  fisheye
Nikon 24mm f/1.4G AF-S — (my review of this lens)
Nikon 50mm f/1.4G AF-S
Nikon 85mm f/1.4G AF-S — (my review of this lens)
Nikon 105mm f/2.8G AF-S VR  macro
for the crop-sensor Nikon DSLRs, I would recommend:
Nikon 17-55mm f/2.8G AF-S DX
Nikon 35mm f/1.8G AF-S DX
Nikon 10.5mm f/2.8G DX  fisheye