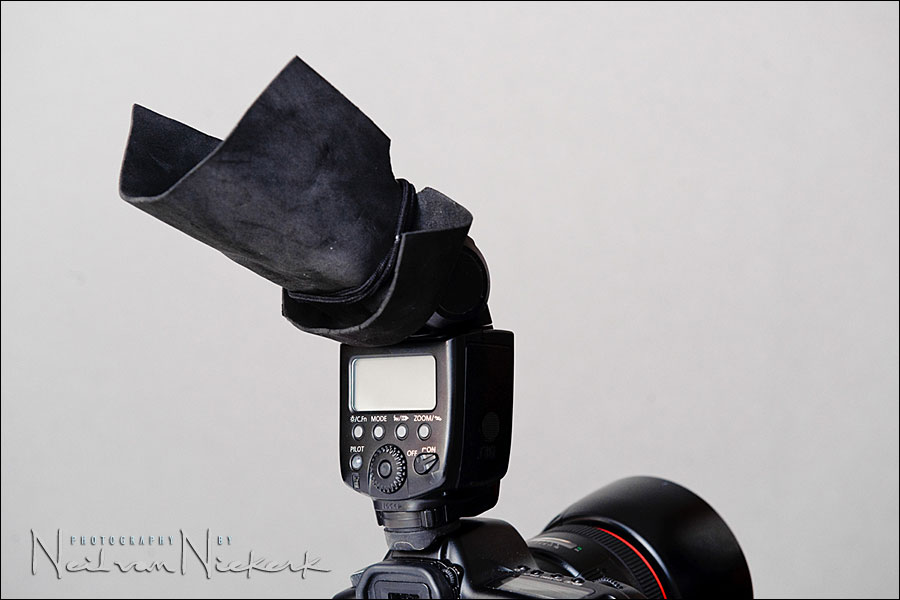 on-camera flash modifier – the black foamie thing
Also make sure you check out this video clip where I demonstrate how I use the black foamie thing to flag the light from my on-camera flash.
In essence, the (in)famous Black Foamie Thing is just a simple little device that I use to shield my speedlight's output from directly hitting my subject when I bounce my flash forward.  It has another benefit in that since I usually fasten to the 'underside' of the flash-head, it blocks light from hitting people in the face that are standing behind me or next to me.  It really does help with being more unobtrusive with flash.
Soft, directional light from my flash – this is the main reason why I use this piece of black foam on my speedlight when I use flash indoors.   The moment I start bouncing my flash 'towards' my subject, instead of over my shoulder, away from my subject … then I stand the chance of there being too much direct flash on my subject.   This usually results in hard shadows and specular reflections on skin.  The light from direct on-camera flash rarely looks good.
What I am trying to achieve in bouncing my flash when shooting indoors, is directional light that is also soft.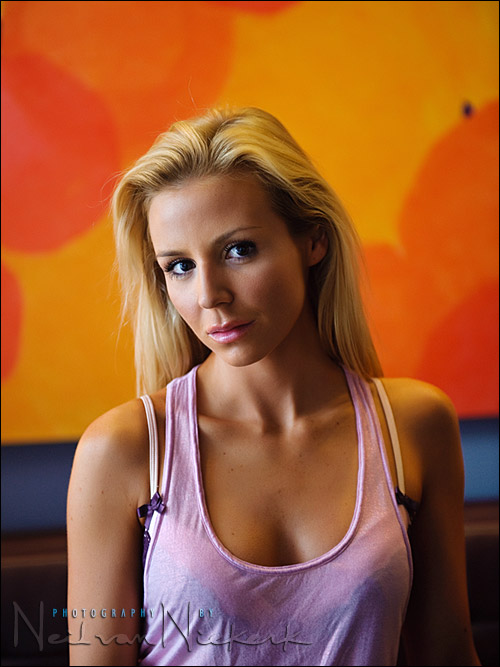 This example of a model that I photographed during a workshop, shows the kind of light I get from my on-camera flash – it is directional because I'm not bouncing the flash directly behind me, and I'm also not bouncing the flash off the ceiling above me.   Bouncing flash off to the side, and even slightly 'towards' your subject can give you strikingly dramatic light from just an on-camera speedlight.  Here's an example from a recent workshop.
To my eye this looks surprisingly good for merely one on-camera speedlight (and allowing some of the ambient light to come into play.)   What we're mimicking here is 'short lighting' as it is usually achieved in a studio. Also read this follow-up article on why I chose a piece of black foam over something that is white.
Then there is an additional side benefit to using this piece of black foam to shield my light:
– blocking flash light from directly hitting other people in the eyes
This becomes important too.  In bouncing flash behind you, or off to the side, you are wasting a huge amount of light from your flash.  It really isn't the most efficient use of your speedlight's output .. but it does look pretty.  With this, you are dumping a lot of light .. and this can be hugely annoying to guests and other people standing close to you.
Looking at how this BFT is mounted on the flash, you can see that the light from the flash is now directed upwards, and very little will be able to sear the retinas of people next to you.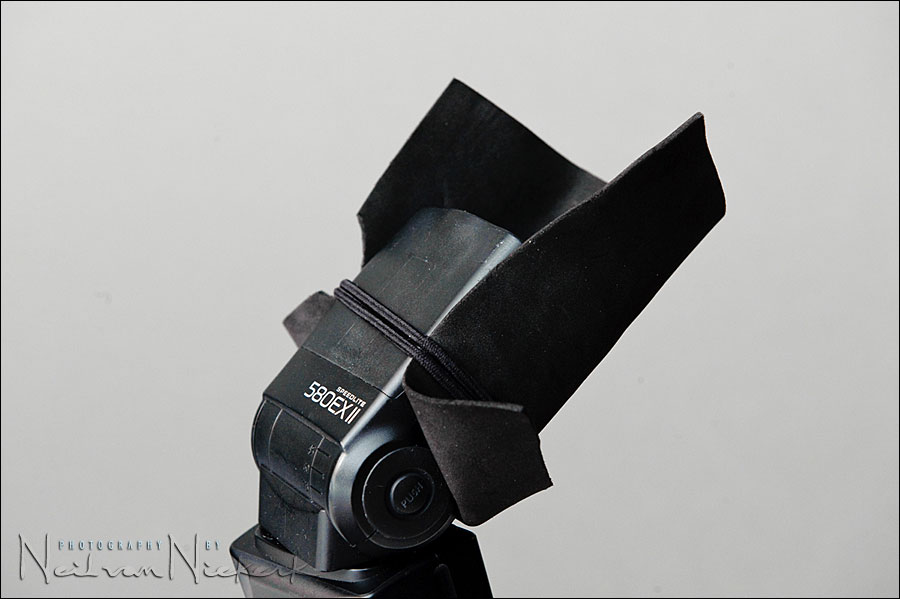 Now, what I also wanted to show with this post, is that I manipulate this piece of black foam.
The original post on my favorite flash modifier, showed a neat piece of black foam .. and also longer than I usually have it when I actually shoot.   In practice, I fold it, and shape it the way I want it to be .. juuuust enough to block the light in the way I want it to be.  The piece of foam can be slid around the flash-head, and it can also be slid up and down the flash-head.  I position this half-snoot / flag  in whatever way I need to  at any particular point .. depending on what I want to do with the light from my flash.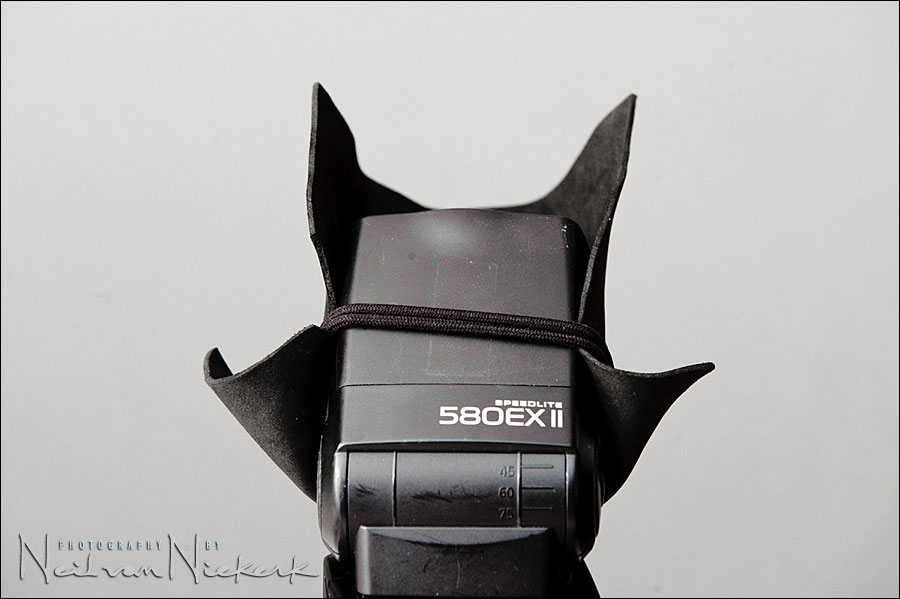 And finally, another benefit ..
– it is inexpensive and simple.
This little device is all about the best quality of light you can get from your on-camera speedlight.   There is no expensive ver.2  that needs to be bought again next year.  It is a cheap piece of black foam held into place by two hairbands.  That's it … oh, and the thought you need to put into HOW you use your flash. In the end all this is NOT about a specifically shaped device with an a fantastically designed strap; and manufactured to tight specifications and engineered perfectly … this revolves entirely around HOW you use the light from your speed light.
This on-camera flash modifier divorces the gear-head approach; ("this device on top of my flash will solve all my flash problems!") ..  from an artistic approach; ("what do I want to achieve with my light?") At the very center of all this, this is about technique in lighting.
related articles