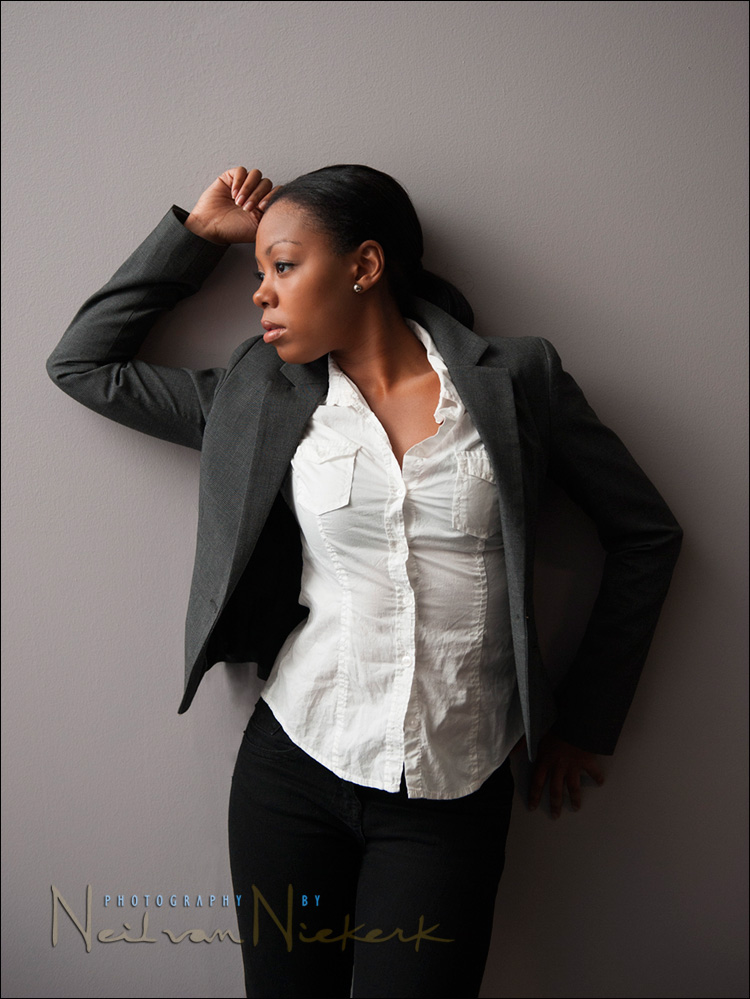 On-camera bounce flash for natural looking light
This photo of Precious, a model at a photography workshop, was taken during part of the practical session where emphasis was placed on getting soft directional light from an on-camera speedlight.  The trick here is to absolutely have no hint of light coming from the camera's view-point.  To do this, I once again used the Black Foamie Thing  to control the light from my on-camera speedlight, shielding the light from the flash. I pointed my speedlight 90′ to my left,  so that the light reflected back towards our model from that direction, to give this striking portrait.
In other words, to get that kind of directional quality to the light from my on-camera flash, I bounce my flash into the direction that I want the light to come from.
Camera settings & photo gear used (and equivalents)
1/250 @ f3.2 @ 800 ISO   … on-camera bounce flash, FEC -0.7
While the camera settings are: 1/250th @ f3.2 @ 800 ISO, and lens was zoomed to 45mm, these specific settings are largely irrelevant. Since I shot this with TTL flash, the camera and flash will follow whatever I set my camera to.
I used a wide aperture, since I normally work at a wide-ish aperture when shooting a portrait. The shutter speed there is very high, because I specifically wanted to show the attendees at the photography workshop that what they see on my camera's LCD, is all flash. No available light. So that was purposely set so high. Normally I would have my shutter speed a little lower to allow some available light in.
I chose a relatively high ISO – 800 ISO – because I was bouncing flash into a fairly big area – an unused business office space. But this isn't that high an ISO any more on modern digital cameras.
My FEC was dialed a little down, because in my experience, the D3 with the SB-900 has a tendency to over-expose TTL flash. So -0.7EV is my usual starting point for a photo when the flash is a dominant light source.
For any other camera make and model, the FEC would've been slightly different. For most cameras, it would be around 0EV or +0.3 EV. Whatever it is, it is something you need to determine for your own camera by playing around with it and picking up experience with how your own camera and speedlight interact.
Regarding whether the zoom head would affect your TTL flash exposure .. it shouldn't. TTL flash exposure is measured via a pre-flash that the speedlight emits before the main exposure … and the camera meters this pre-flash and makes the exposure decision.
There was no specific surface that I bounced the light off. I just pointed my speedlight into the rest of the area, and enough light bounced back from the walls, windows, pillars and part of the ceiling. The surfaces were fairly neutral. No color casts. The pillars were painted grey.
My distance to my subject? Not that far .. the focal length was 44mm on a full-frame camera, and the image is un-cropped.
There's a big difference in approach in using that piece of black foam to FLAG the light, as opposed to using something white to bounce the flash off.
With the flag, the area that I am bouncing my flash off, becomes my light source. Which in effect means my light is off-camera. With that bounce device attached to the flash, the light is coming from the camera's point of view again, giving entirely different results.
On-camera flash modifier – the black foamie thing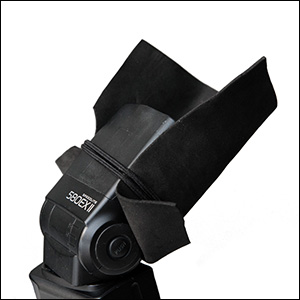 I use the black foamie thing (BFT) as a truly inexpensive flash modifier to flag my on-camera flash to give me lighting indoors that truly look nothing like on-camera flash.The
piece of foam
(
Amazon
), can be ordered via this link. I cut the sheet into smaller pieces.
The BFT is held in position by two
hair bands
(
Amazon
), and the BFT is usually placed on the
under-side
of the flash-head.
The linked articles will give clearer instruction, especially the
video clip on using the black foamie thing
.
Related articles