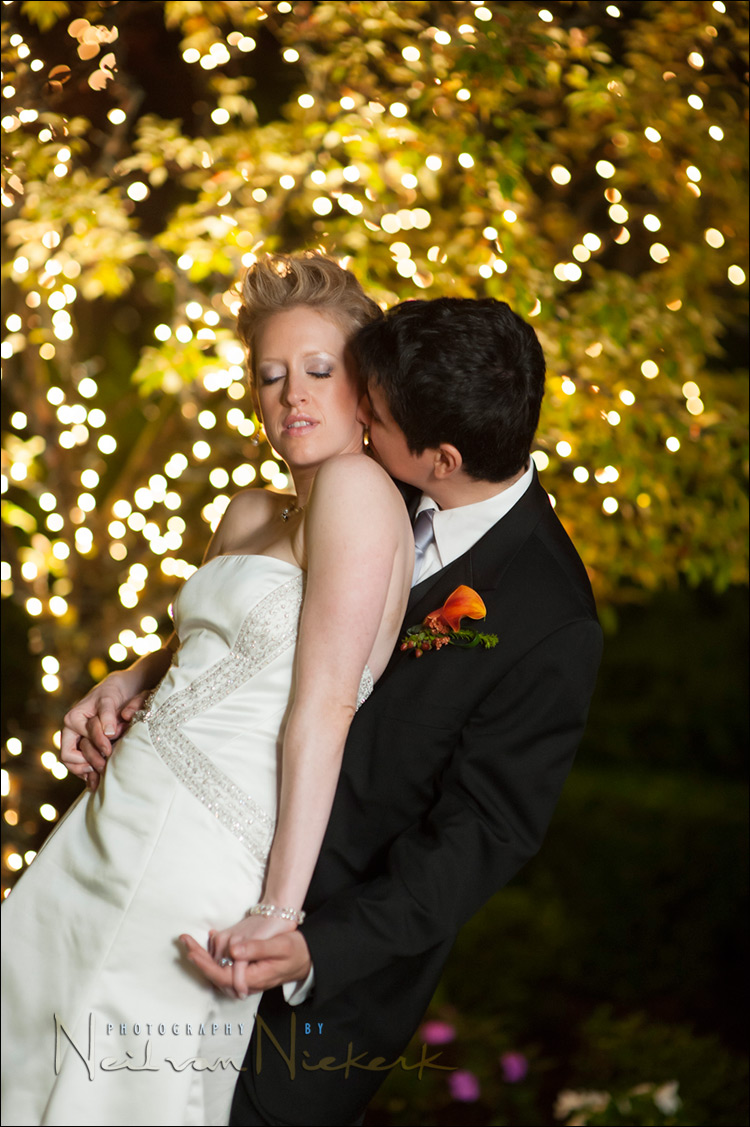 bounce flash – choices and control
This favorite images from a recent wedding, is one which I'd like to analyze a little as to what went into creating it.
First of all, I am usually quite specific about my backgrounds.  A cluttered background can really bring down an image which might otherwise have worked.  So in a case like this, when creating the romantic portraits outside the venue with this couple, I was on the look-out for something interesting to work with.  When I saw the twinkly lights in the trees outside, I knew that it would definitely make a great out-of-focus background.
I then needed to position the couple in relation to the background – and in this case use a lens with a longer focal length to help place them.  A wide-angle lens would've given too wide a field of view.  I need a tighter composition.
But in how I wanted to position the couple, I also knew the light on them wasn't ideal.  I would have to add on-camera flash as a quick fix for the lighting.  Since I was working alone, I couldn't rely on an assistant to hold a reflector or an umbrella / softbox.  I therefore looked for something to bounce my flash off .. and I figured that I could bounce my flash off the outside walls of the venue.  I did so at an angle, that I could still have a measure of directional light on them.
These two things then combined to make it this particular spot that I used:
– an interesting background, and
– an area I could bounce flash off.
Since I knew I would be losing a lot of light from my on-camera speedlight in bouncing flash off a large wall outside, the short telephoto that I wanted to use, also needed to be a fast optic.
The lens I decided on was the Nikon 85mm f1.4 … and if I had been shooting Canon, it would've been my Canon 85mm f1.2 (B&H)
However, if these lenses seem out of reach, then both the Nikon 85mm f1.8 and the Canon 85mm f1.8 (B&H), are excellent and affordable optics that will open up a whole new look to your images if you're only used to the depth-of-field of slower zooms.
For the final image at the top, my camera settings were:  1/60th @ f2 @ 1600 ISO,  TTL flash.
Here's a test shot without flash, where I made sure the intended background worked:
The final image at the top then is a combination of  choices and controlling the situation.  Nothing there is arbitrary.  The choices made were in terms of the setting; the composition; the use of flash to augment the lighting  and in directing the couple .. finally culminating in an image that i love.
video tutorials to help you with your photography
If you like learning by seeing best, then these video tutorials will help you with understanding photography techniques and concepts. While not quite hands-on, this is as close as we can get to personal instruction. Check out these and other video tutorials and online photography workshops.