photography questions & answers
Continuing with the regular theme where I look at search engine queries that point to this site, and answer a selection of 10 questions more directly…
01)  how do I take an exposure reading with my camera?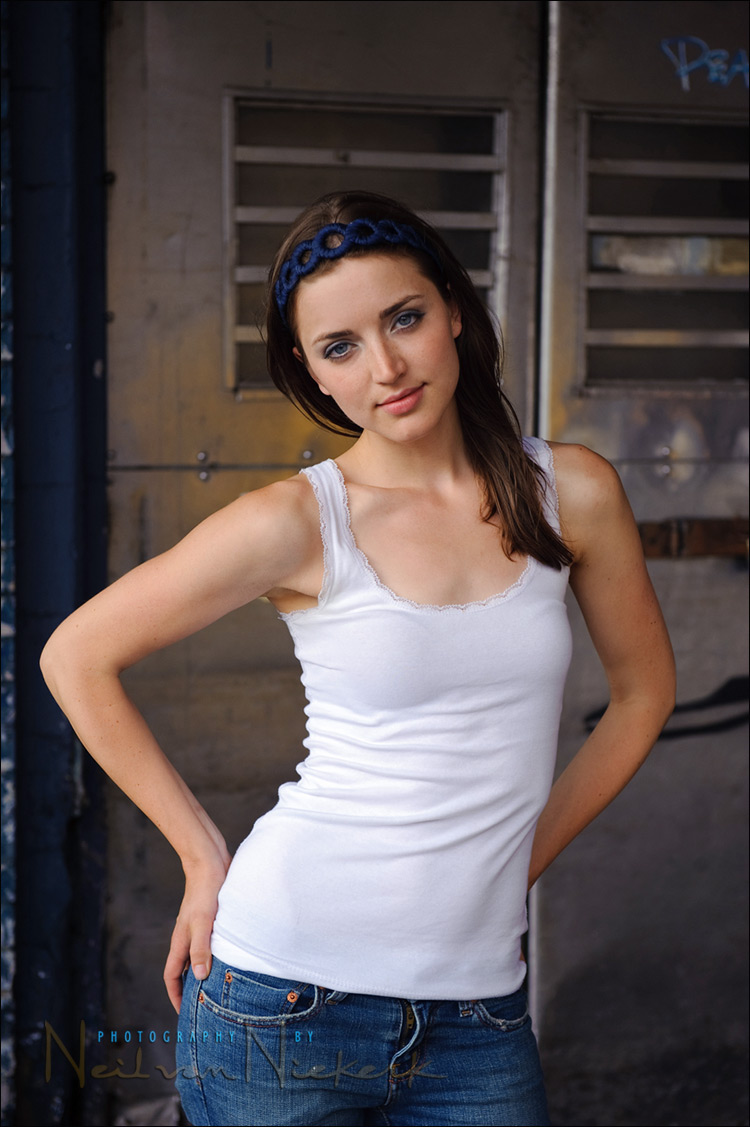 Taking an exposure reading with your camera is at one level as simple as pointing your camera at the scene, and zero-ing the needle, by using the shutter speed & aperture & ISO controls. But, it also gets more complex and interesting than that. The crucial factor to remember is that your camera's meter reads the light reflected from the scene you are pointing it at.
Looking at the image at the top – my favorite model, Anelisa, again – you will see she is wearing a white top, and she is placed against a dark background. With the composition as above, the chanced are great that most modern cameras with evaluative metering / matrix metering, will get to an exposure reading that is pretty close. The white areas and darker areas will most likely balance each other out.
But the moment that you change the composition by including a lot more white or a lot more of the dark areas, then the exposure your camera sets, will be off. You need to control your exposure settings …
You can most easily do this by shooting in manual exposure mode on your camera.
To get to correct (ambient) exposure, you can do either of several things:
- meter selectively with your camera's built-in meter.
- if your subject is wearing white, use the camera's histogram.
- use a hand-held meter. This is near infallible.
So there are several techniques to get to correct exposure. But when you rely on your camera's built-in meter, then you have to familiarize yourself with the concept of various tonalities of the scene / subject … and how to meter selectively. And you also need to realize that simply zero-ing your camera's meter needle, will not necessarily give you correct exposure. Similarly, simply pointing your camera at the subject while using spot-metering, will not necessarily solve your metering problems. You need to meter for selected tones.
02)  wedding photography flash compensation for white dress
Here is a recent article on exposure metering for the bride's white dress. While that linked article deals mainly with ambient light metering, the concept is directly applicable to flash exposure compensation. It also relates directly to the first section in today's post on exposure metering. It always comes together in some way.
03)  focusing assistance with flash off the camera
I use an on-camera speedlight with its output disabled, but with the AF assist still working for me. This is especially useful in the dark. I often do this even when I use PocketWizards to fire the off-camera flashes set to manual output. Or you could use a Canon ST-E2 / Nikon SU-800 wireless controller just for the AF assist.
04)  how to shoot with flash and control the aperture?
TTL flash. You're going to like it.
05)  flash exposure compensation not working with manual flash
With manual flash, the flashgun emits a fixed amount of light every time. The ways to control the exposure you get from the manual flash is through controlling the distance (and power) of the flash from your subject, and the aperture and ISO you select on your camera. Flash exposure compensation is how you control TTL flash. So if you are using manual flash, then the flash exposure compensation button on your camera will have no effect.
06)  Nikon (some camera model) / Canon (some camera model) give soft images
It is a near guarantee that if someone complains of soft images, their chosen shutter speeds are too slow. First remedy, take your shutter speed higher! Of course, there could be a number of other reasons … but a too-slow shutter speed is usually the culprit. Take control!
07)  what lenses to use for full body group shots
A flippant answer would be that you could use anything from a fish-eye lens to a 400mm lens … but you have to check how far you stand from the group. A real answer though would be that, depending on the group, you would ideally not use anything wider than around 50mm. As soon as you go to a wide-angle lens, you risk getting wide-angle distortion to the edges of the frame … or worse, if you step too close to a small group of people with a wide-angle lens, you will get that bobble-head effect. Shooting down on someone with a wide-angle lens will create a distorted effect where their heads are much larger than their feet.
So the answer would be, depending on the size of your group, and depending on your working distance available … you want to use a lens that is longer than say 50mm.
08)  which camera for wedding photography?
Whenever I see these questions via my website analytics, I am soooo tempted to reply that the only cameras that should be considered for wedding photography, are either the Nikon D3x or Canon 1Ds mkIII, and that nothing else would suffice. Oh, and to buy it through those affiliate links. And by the way, you're going to need two of those bad boys. Actually, make it three of those.
09)  overpower the sun with PocketWizards
um .. you're going to need flash to overpower the sun.
More than anything else, you're going to need flash.
the final one for today, is another one that I thought was amusing:
Neil van Tangents
If you can't spell 'van Niekerk', then 'van Tangents' will get you there as well. Easy!
If you find these articles interesting and of value, then you can help by using
these affiliate links to order equipment & other goodies.   Thank you!
Stay informed of new articles via the monthly newsletter.
Also join us on the Tangents forum for further discussions.