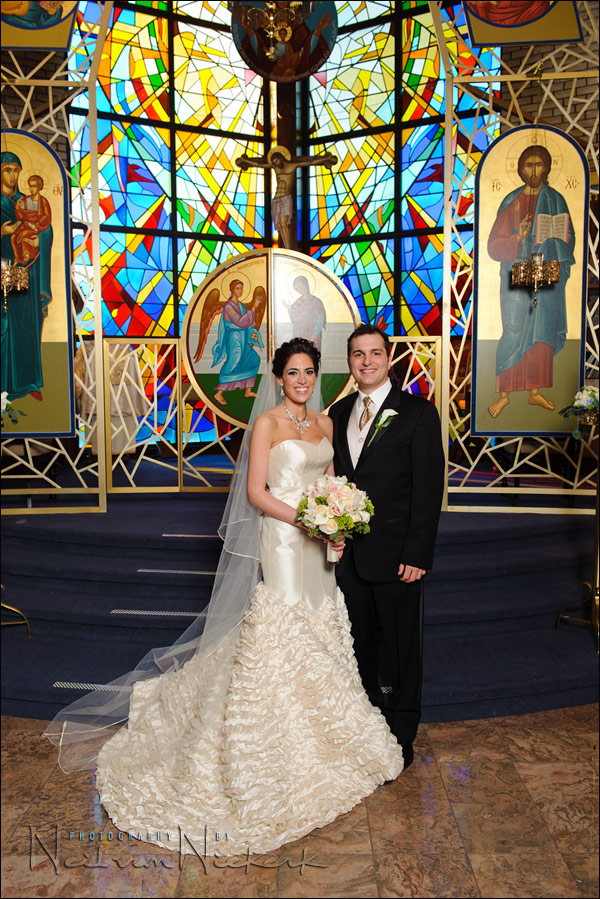 a simple lighting setup for photographing the wedding formals
Photographing a wedding can be pretty hectic at times, especially as it so often becomes the photographer's de facto responsibility to keep everything on track. The formal photo session specifically is a part of the day that many photographers find challenging. (The other is photographing the wedding processional.)
When photographing the family portraits, you can really help yourself by nailing your lighting. Get it down.  Then you can concentrate on getting the groups together, and concentrate on posing the groups. But your lighting works! Much less stress.
I mostly work with the Quantum flashes since they are workhorses and don't melt when used hard. They also have a bit more power than a speedlight.
But quite often, I like working with a speedlight setup …
Here is a similar image with the exposure pulled down to give a bit more detail of the flash set-up.
But this is a proper close-up of what was used.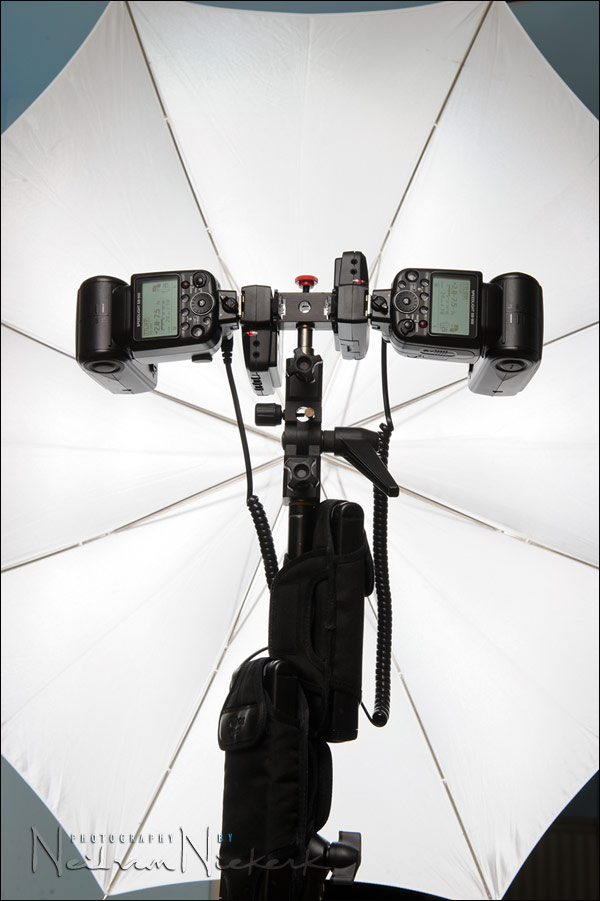 the equipment you'll need to light the wedding formals
Two speedlights.
Here I used two Nikon SB-900 speedlights.
They've now been updated as the even better  Nikon SB-910 Speedlight (B&H)
If you're a Canon shooter, then the  Canon 600EX-RT Speedlite (B&H) is a great choice. But any speedlights would've worked. There are good reasons to use cheaper manual-only speedlights, but I prefer having only the top-end speedlights which offer the flexibility and features I need, such as TTL flash and high-speed flash sync.
Radio triggers
I like the PocketWizard TT5 units, but since we'll be using manual flash only here, there's a wide variety of radio triggers for flash that would've worked well.
45″ white satin umbrella (B&H)
This single shoot-through umbrella disperses the light surprisingly evenly.
Umbrella Bracket (B&H)
You need something to hook the umbrella up to the light-stand, and be able to swivel the umbrella into a specific direction.
Battery packs
For faster recycling, I'd strongly recommend battery packs.  The proprietary battery packs make a lot of sense:
- Nikon SD-9 battery pack (B&H)
- Canon CP-E4  Compact Battery Pack (B&H)
Dual Speedlite Bracket
I use the IDC double mount as shown in the photograph above, but it's been updated by the Triple Threat. There are numerous options here, and a Google search will show many choices. There's the Morris Umbrella Tilt Head (B&H); the Interfit Strobies Triple Flash bracket (B&H). Lightware offers the FourSquare. There's the WizardBracket. There are also DIY dual flash brackets.  A wide choice.
I would also strongly recommend the RPS Light Bar (B&H), as described in the article on mounting multiple flashes / speedlites.
But it does make sense to get two speedlights in there for extra power, or for faster recycling. Besides, you have at least two speedlights anyway.
Lightstand
I like the Manfrotto 1004BAC (B&H), but a lower priced lightstand like the Impact Heavy Duty 13′ LightStand (B&H) is a good option.
That about covers the gear you'd need.
Oh, currently my standard camera and lens for formals:
Nikon D4 (B&H);
Nikon 24-70mm f2.8G ED AF-S (B&H)
exposure metering
I don't use a lightmeter here, since I can rely on the histogram method of getting accurate exposure with manual flash.
Since the family members will be in a fixed position in relation to the light (on a light-stand), it just makes the most sense to use manual flash. TTL flash will cause too much variation in exposure.  What you need for a faster workflow afterwards, is consistent and accurate exposure. Every frame with exactly the same exposure.
Manual flash exposure is controlled by these 4 factors:
- distance between the light source and subjects (which is fixed)
- power  …  the power / output of your speedlights. You need to figure this out, for your chosen aperture and ISO
- ISO  …  select a reasonable ISO. I often go as high as 800 ISO with the family photos with a suitable camera. 
 - aperture  …  pick a suitable aperture. f5.6 makes sense. f8 makes sense. f2.8 is kinda risky for a group because the depth-of-field is so shallow. Stay with a medium aperture.
My settings for the image at the top were:
1/160 @ 4.5 @ 400 ISO
There was a lot of available light streaming in, so I chose my settings accordingly, and added enough manual flash to give me good exposure for the brides dress.  All other tones fell into place along with this.
related article:
- exposure metering for the bride & the bride's dress
For this wedding, in a darker church, I chose:
1/60 @ f5 @ 800 ISO … using exactly the same setup.
A quick note about focal length – use as long a focal length as you comfortably and practically can. Really resist the urge to zoom wider on a group of people .. really try to rather step back and keep to a longer focal length.
And this is how it comes together for the lighting – using a lighting gear that is easy to use, and gives surprisingly great light for a medium sized umbrella. This way you can take stress off you by having great light with the family formals session.
related articles
- wedding photography: positioning your flash for the formals
- lighting and photographing the wedding formals
- lighting the wedding formals
- more articles about wedding photography
- other articles on off-camera flash photography
newsletter / forum / workshops & seminars
Stay informed of new articles via the monthly newsletter.
Also join us on the Tangents forum for further discussions.
If you need more direct help or instruction on flash photography,
I do present workshops & seminars and also offer individual tutoring sessions.
If you find these articles interesting and of value, then you can help by
using these affiliate links to order equipment & other goodies. Thank you!