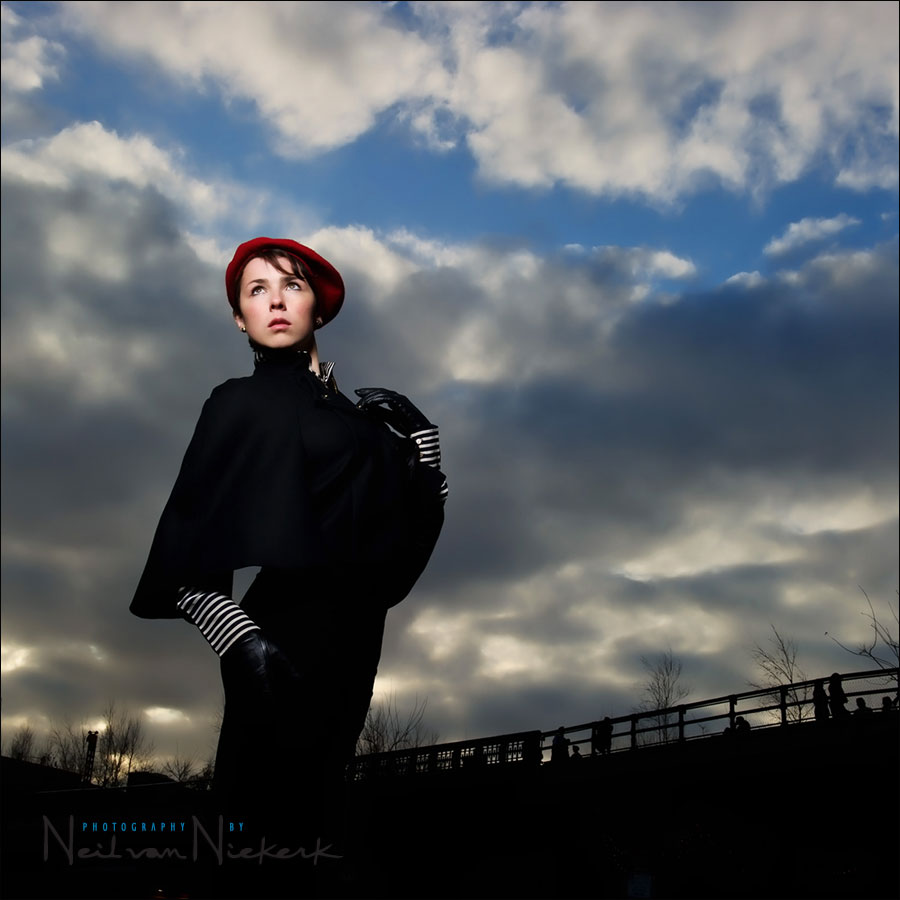 Flash photography tip: Find your background, then your settings
With flash photography on location, we nearly always start off by figuring out what we want to do in relation to our available light. We might just need fill-flash, or or flash might need to do the "heavy lifting" and expose correctly for our subject in relation to the available light. When we have our subject in (relative) shade, and need to figure out our flash exposure, we also need to decide exactly what our background is.
It usually works best to be specific about our background … and how we position ourselves and our subject in relation to that.
So let's run through that thought-process, using the image at the top. Alex was our delightful model today during an individual workshop in Manhattan.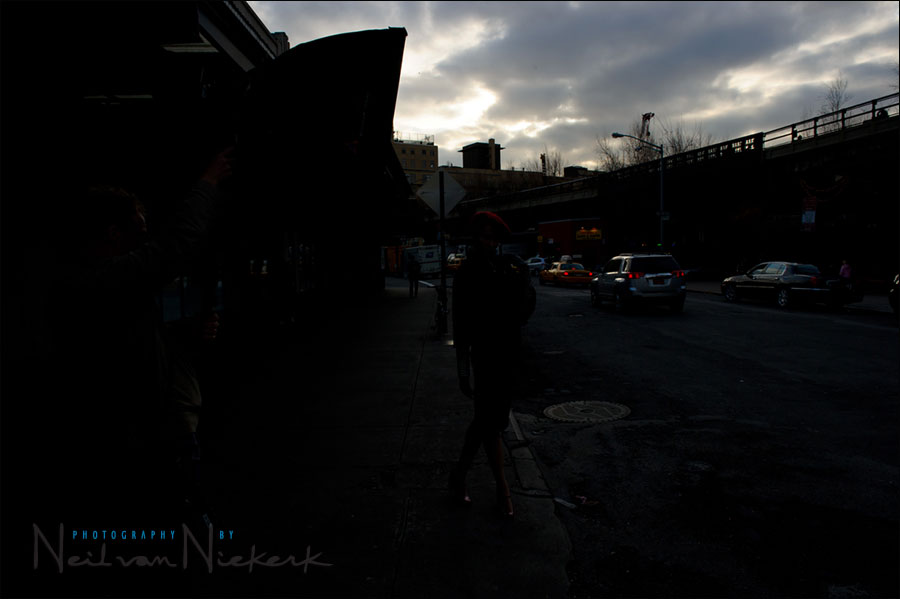 A point that I often underline here, is that we can't expose correctly for all the areas in our background. We have to choose which part of our background is important, and base our exposure on that.
For example, here is a street scene in Manhattan. Exposing for the sky, the street goes completely dark.
1/250 @ f11 @ 200 ISO
This is to illustrate that I can't simultaneously expose correctly for the sky and the street scene. I have to decide what area I predominantly want as my background.
Adding flash to this to expose correctly for Alex, still leaves us with an image that doesn't make sense. She's lost in a pool of black surroundings.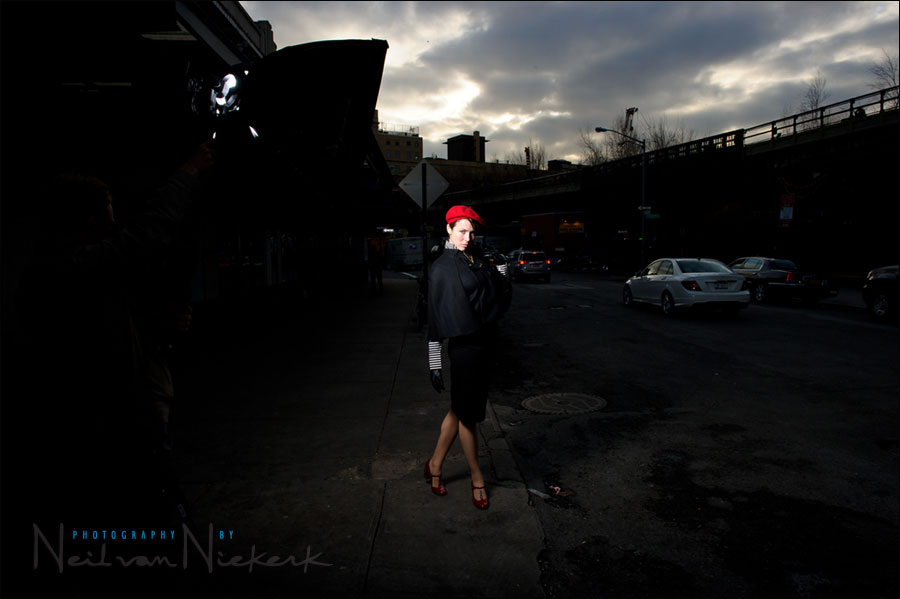 Positioning myself so that I can shoot up and use the sky as my background, makes much more sense.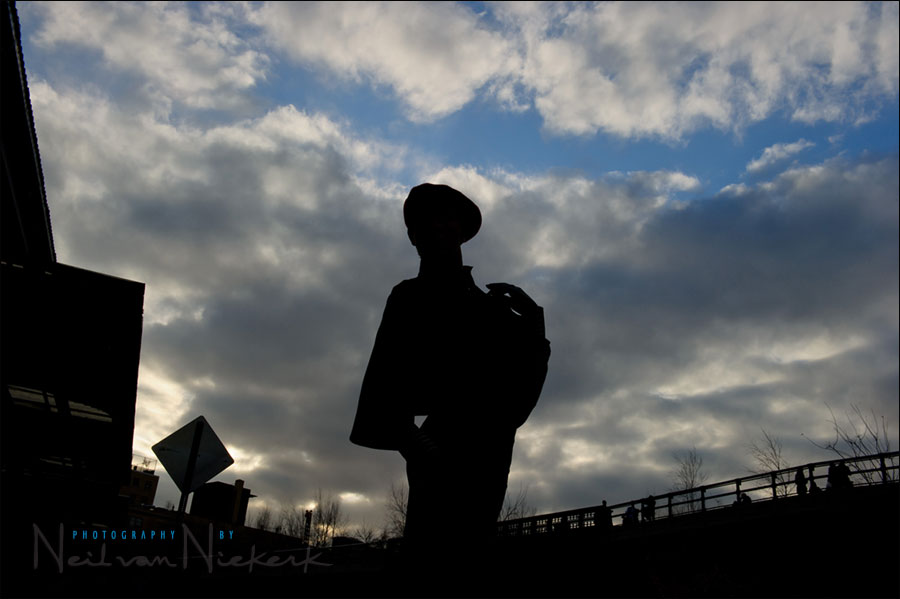 At this point, I had changed my exposure to 1/250 @ f16 @ 200 ISO to really saturate the sky.  There is no specific correct exposure here for the sky. I can choose how I want to have the background / the sky appear.
Adding the correct amount of flash to this mix (as manual off-camera flash), immediately gives a dramatic look.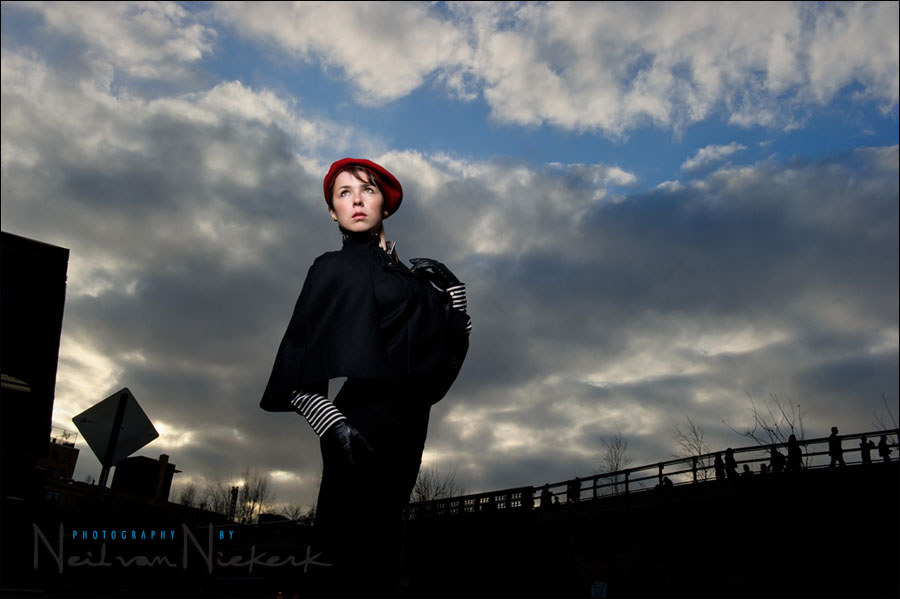 The vertical shot looks good, but half the frame is dark. It would need additional flashes, or something there to help delineate her legs against the background.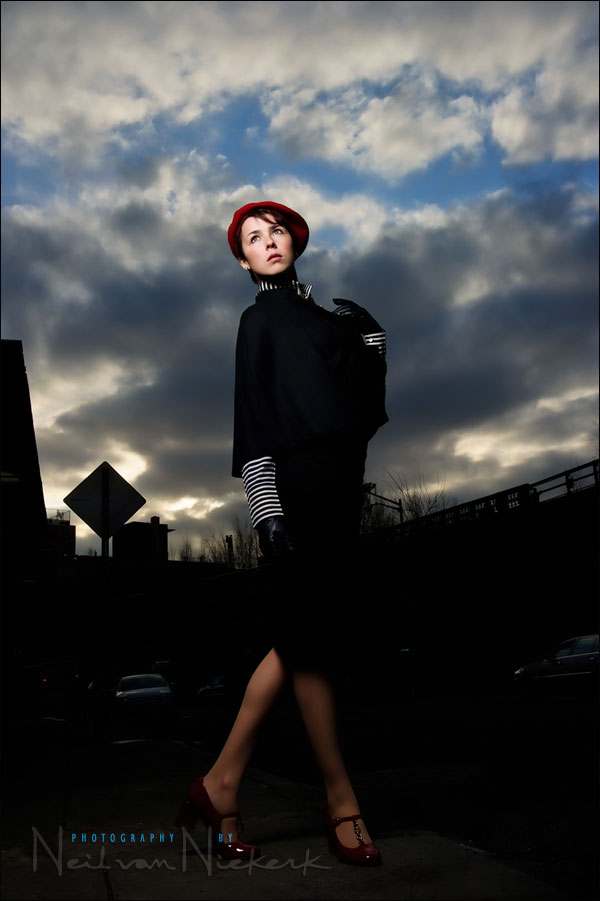 The composition just makes more sense as a horizontal photo, with Alex placed against the sky.
The final image again …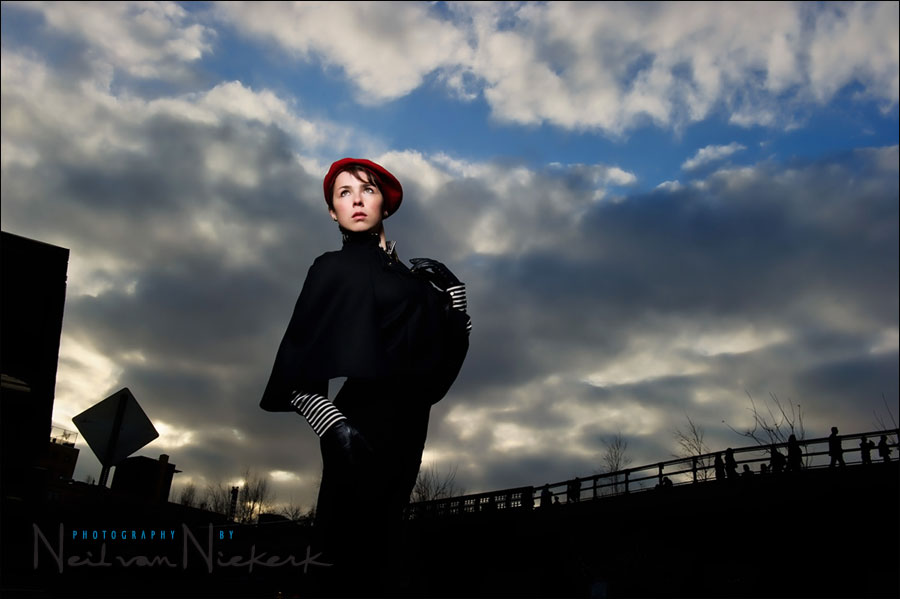 .. but with the image sweetened a bit using Topaz Adjust in an Adjustment Layer in Photoshop to give the photograph a bit more snap, as described in that article.
Here is the pull-back shot: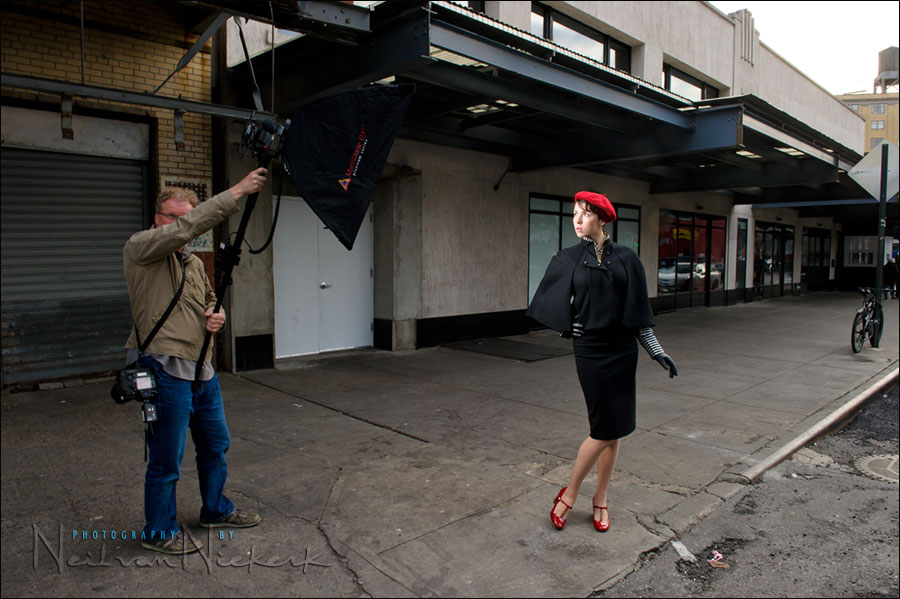 To get any kind of detail in the surrounding areas, and not have it appear black, I dragged my shutter to 1/15 of a second. Not a sensible shutter speed here when hand-holding the camera. It was just to illustrate where we were.
Since we were shooting with manual flash here, I couldn't as easily change my aperture and ISO as I might have if TTL flash was an option with our setup. Therefore my shutter speed was the easiest to change and affect my ambient light only.  (It's my independent control for available light when shooting with manual flash.)
FInally, here is the image as I preferred it to be cropped. It was sweetened a bit in Photoshop with using Topaz Adjust, but the sky was not dodged and burnt or manipulated. It appears that saturated and dramatic because that is how we exposed for it.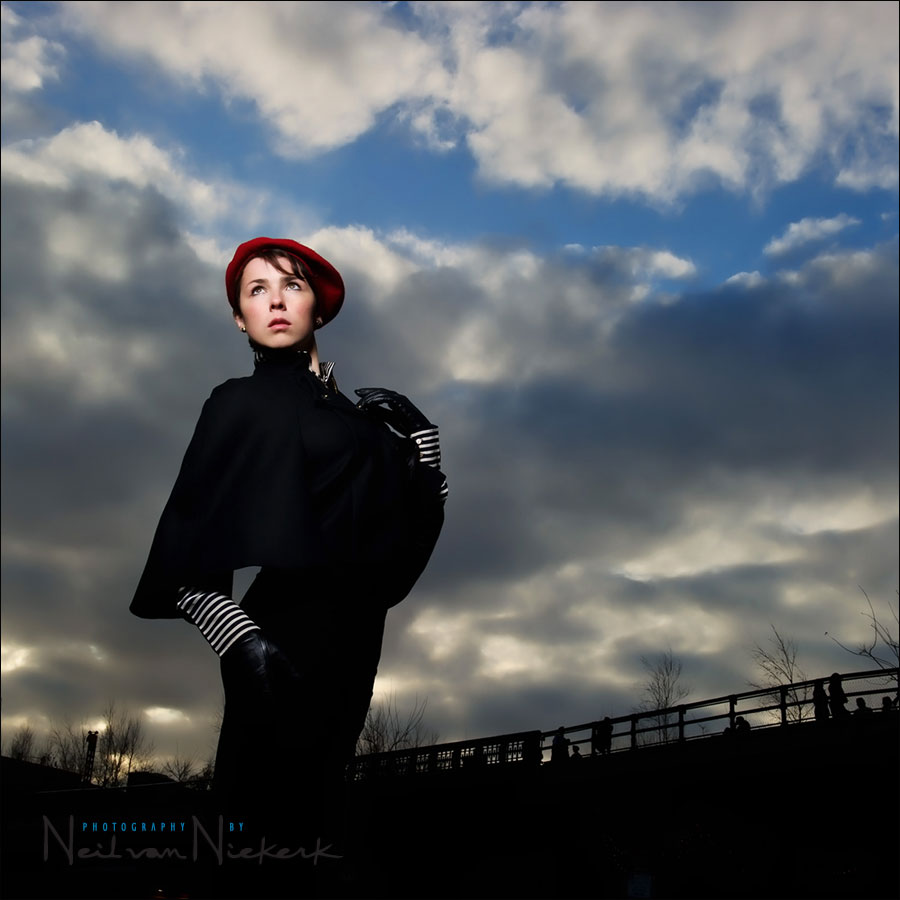 1/250 @ f16 @ 200 ISO … 24-70mm lens zoomed to 35mm (but image cropped square)
Step-by-step, the metering technique used for the manual flash
We decided on the aperture and ISO we want to use, based on what we wanted to do with our background.
Since we're shooting in bright light, our lowest ISO is our best option.
We're shooting at maximum sync speed, since that is the most sensible shutter speed choice now.
Since manual flash was used, that means aperture and ISO has now been fixed for us.
That leaves distance and power of our flash, as the other two controls.
Knowing we need to dump f16 @ 200 ISO worth of light from the Q-flash in a softbox with a single baffle, the flash was set to full manual output.  Everything the flash could give.
That means our power was decided for us.  (Due to bright sky)
Then we  just had to use a lightmeter to measure our output (in f-stop readings). Holding the monopod and softbox up, I moved forward until the other photographer read f/16 on the lightmeter. Remember, the distance here is the distance from the light-source to the subject, not the photographer's distance to the subject.
Now all our settings for flash are correct … in relation to our chosen background.
Related articles
Photo gear used during this photo session