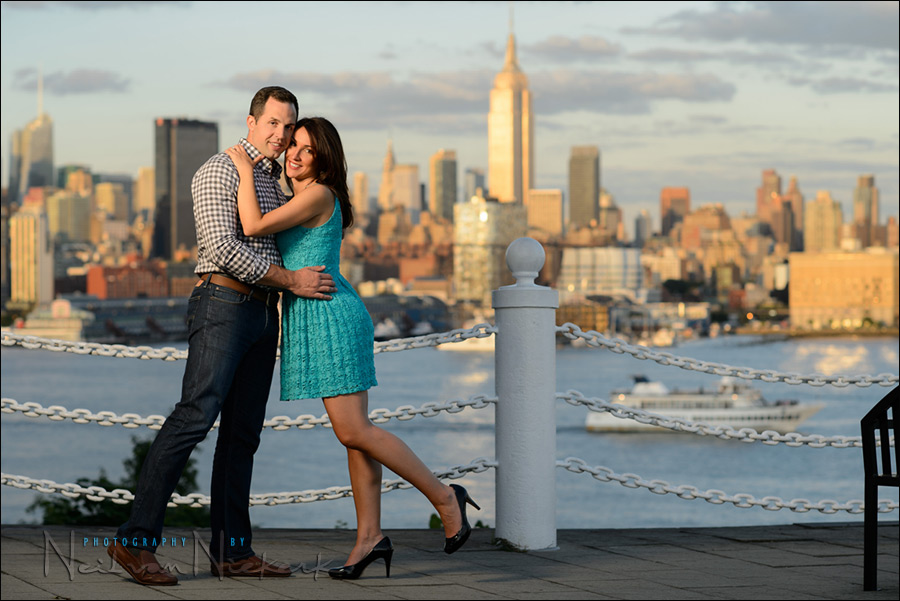 Gelling your flash for warm light at sunset
Since the light from a speedlight is relatively quite cold, (ie, blue-ish), it can create an unpleasant color cast when you use flash with existing warm ambient light. A typical problem situation would be the Incandescent environment that we often find ourselves in at night. But there are other times when the WB from our speedlights (typically around 5400K) is just too cold (blue) compared to the light we have at sunset. (The Daylight WB preset relates to color of daylight during the middle of the day.) Then we need to do something with our flash to help match those warm hues at sunset. Gelling is the answer.
With this photo session of Lauren and Chris, we were at this breath-taking vantage point overlooking Manhattan. The sun was starting to set and taking on those very warm tones that look so gorgeous. Blue-tinted flash would've spoiled this. Since they were in a shaded spot, I had to use additional lighting here. I had to try and make it appear as if they were bathed in the same warm light.
I normally keep 1/2 CTS gel taped to my lens hood, so that I have ready access to gels. The 1/2 CTS is measured for 3700K which would've been too warm in this instance. So instead of covering the entire face of the flash-head with the gel, I only partially covered it, by turning the gel sideways. In other words, taping it down vertically instead of horizontally over the flash head … and this was just enough to have the same warm light on the couple, as there was on the city. A much better balance.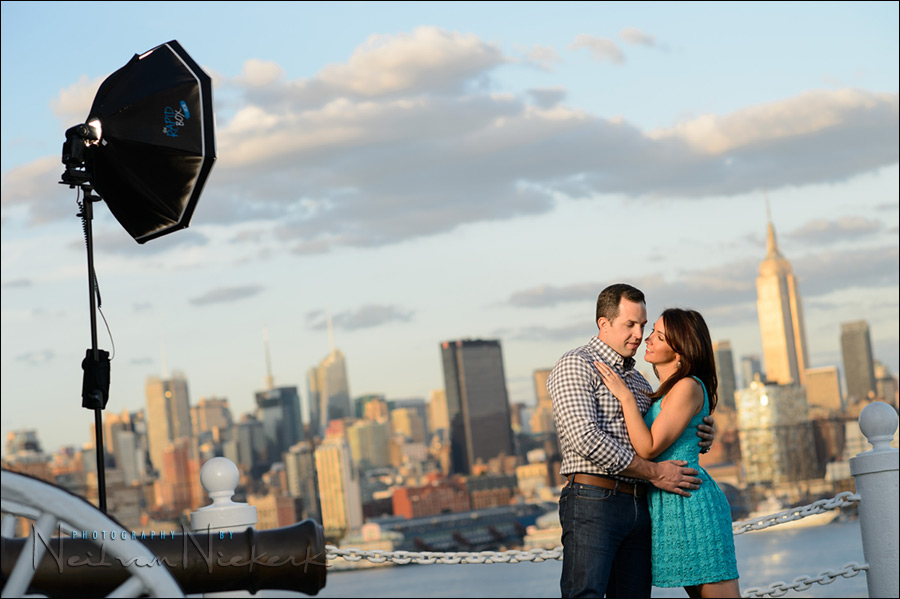 The light was supplied by a speedlight and my new favorite light modifier, the Westcott Rapidbox – 26″ Octa Softbox (affiliate).
Camera settings for the image at the top: 1/250 @ f/3.5 @ 100 ISO
I used the Nikon AF-S 85mm f/1.4G (affiliate) which I decided to give more of a work-out with this photo session. The equivalent Canon lens, the  Canon EF 85mm f/1.2L II USM (affiliate), is of course a legendary lens. The awesomest of awesome lenses.
For the apertures I was shooting at though, the more affordable 85mm lenses would've performed just as well:
Nikon AF-S 85mm f/1.8G (affiliate) /  Canon EF 85mm f/1.8 USM (affiliate)
I decided to go without an assistant with this photo session, so it was just me and the very portable Westcott Rapid Box on a light-stand. I weighed the light-stand down with my camera bag to keep it from toppling over. Fortunately, the wind was very mild on this day, so it didn't need something or someone more sturdy than the light-stand weighed down like that.  And no, I am not going to carry a sandbag around with me when I already have a heavy camera bag over my shoulder.
Regarding the image at the top, I really love how the light on them is similar enough in warmth as the background.  However, I don't have a non-gel comparison shot, since this was a shoot for the couple, and I didn't want to slow things down too much.
There is of course the option to forego the off-camera lighting, and go with a more silhouetted appearance. This works too, for a few images.
Earlier on the sun was coming from a lovely low angle, and I could use just the available light. I posed Lauren into the light, so the hard light from the sun was still flattering. The specific way I posed her, had to do with the direction and quality of light. Indeed, it all comes together at some point!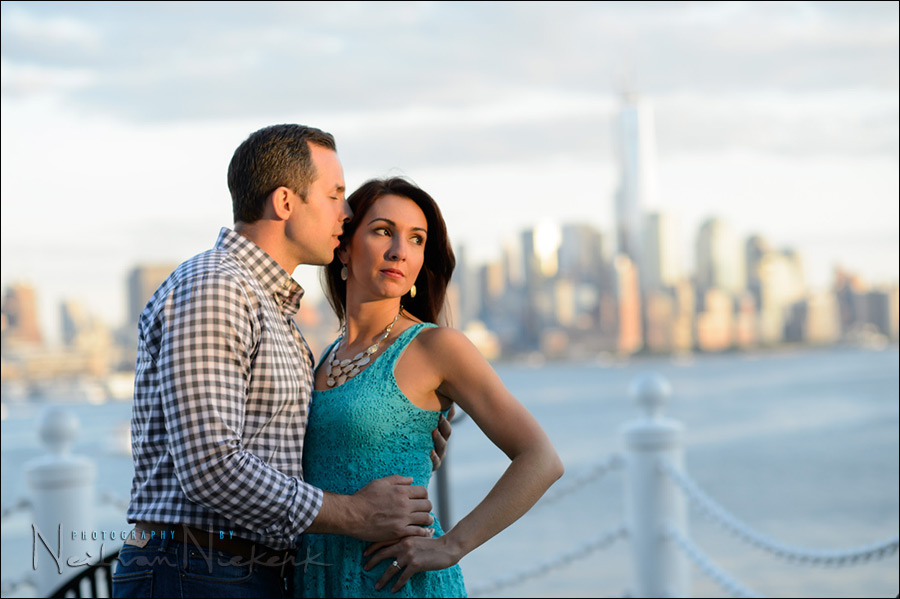 Nikon D4;  Nikon AF-S 85mm f/1.4G (affiliate)
camera settings:  1/640 @ f/2.8 @ 400 ISO  (available light only)
Working with just the ambient light, left me with less control over how the background appears … but I am quite happy with the blown-out cityscape behind them as a backdrop.
But there is always a choice to move into a more shaded area, so that I can use off-camera flash to balance them against the background. Again, this photo below had the gel over part of the flash-head. I kept the WB to Daylight, so that the warm look remained. Neutral (or correct) would've been too cold again, and some of the mood would've been lost.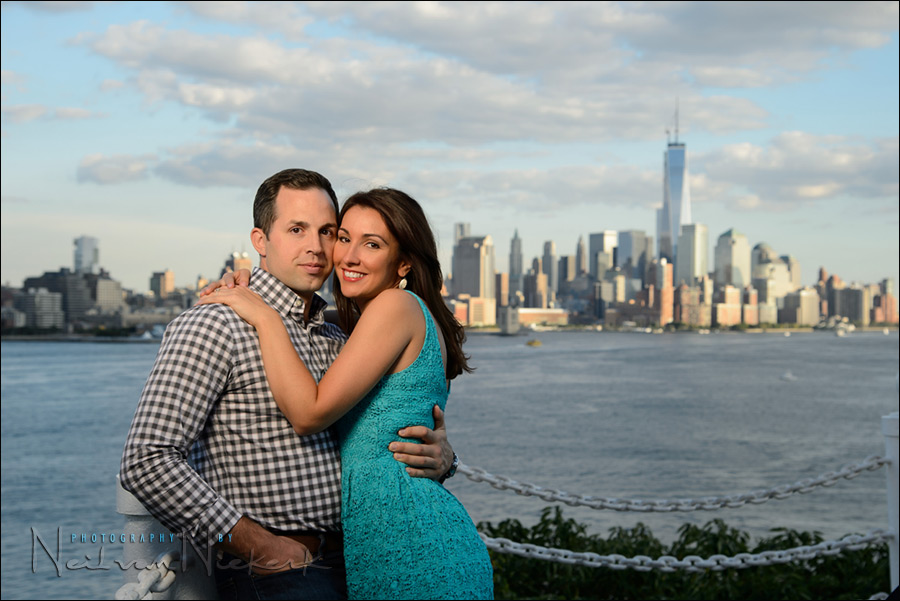 Nikon D4;  Nikon 24-120mm f/4 VR (affiliate), for a wider sweeping view
camera settings:  1/250 @ f/5.6 @ 100 ISO  (available light only)
As always, we have choices, and it becomes a matter of adjust-to-taste in terms of our light, and how we use it.
---
---
Gelling your flash
Since I frequently gel my flashguns to turn the WB of my flash much warmer (usually for  Incandescent light), I use these gels that I cut up and tape to the top of my speedlight's head. One of these sheets (which aren't expensive), will give you a lifetime supply of these filters. For me, these gels are an invaluable part of flash photography. Tape the gels down on your lens hood when not in use.
The Full CTS will bring your flash WB down to around 2900K, more or less neutralizing the look of the Tungsten light.  The 1/2 CTS will bring your flash WB to around 3800K, which will leave your backgrounds still with a touch of the warmth of Tungsten lighting.
Photo gear (or equivalents) used in this photo session
Related articles
A little bit of homework
I used my flash here at full manual output. Since I had to balance the off-camera speedlight (in a softbox) with bright daylight, I had to crank out everything the speedlight was capable of. How did I get to correct flash exposure then for the different settings?