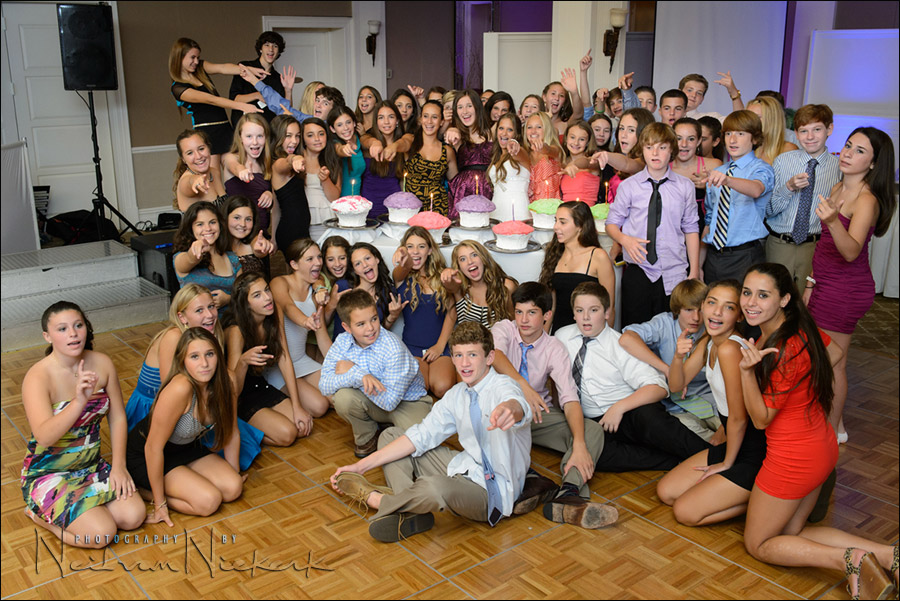 What if you need more light from your bounce flash?
Because I so often use on-camera bounce flash, one of the questions I'm regularly asked is, what if there is nothing to bounce your flash off? There is also the variant – what if there isn't enough light from the bounced flash?
In both cases, the answer is the same – you improvise!
Not only that, but you need to be prepared to improvise.
The photograph above is from a recent Bat Mitzvah, showing the big group shot of the kids. If you've photographed Bar / Bat Mitzvahs before, you know this is coming up, and you have to be prepared for it.
You're prepared for it by:
- having a ladder handy to stand on
- a wide enough lens and enough space to move back into
- enough light!
You can not just be passive and go … oh, oops! You need to be prepared and have done some homework before any event you photograph. (It seems such an obvious thing to even need stating like that!)
This particular venue has a really awkwardly shaped ceiling, and it has a bronze color in places. So it makes bounce flash photography a bit of a challenge, but I was able to get pretty good results by pushing the ISO higher. Using a camera like the Nikon D4 is an obvious boost here!
1/80 @ f/4 @ 3200 ISO
Nikon D4  (B&H);  Nikon 24-70mm f2.8G AF-S  (B&H)
on-camera bounce flash with Nikon SB-910 Speedlight (B&H)
But with a Bar Mitzvah, I also know that:
1.) I will have to photograph family groups before the event. So I have a setup ready for that with off-camera flash. For this evening, I used a setup as described in this article:  positioning your flash for the formals. However, photographing the groups in a smaller room, I had the off-camera flash closer than described in that article. Obviously.
2.) I will have to photograph the candle-lighting. (People at a static position from the camera – this makes manual flash more likely.
3.) I will have to photograph the big group of kids.
For that, when the candle-lighting started, I had placed an off-camera speedlight on a tall light-stand behind me on the dance-floor somewhere, to blast some extra light. Depending on the venue, it is usually with the additional off-camera flash bounced into the ceiling – because I don't want a large white shoot-through umbrella to block the guests' view.
1/125 @ f/4.5 @ 1600 ISO
Nikon D4  (B&H);  Nikon 24-70mm f2.8G AF-S  (B&H)
on-camera bounce flash with Nikon SB-910 Speedlight (B&H)
This also means that when the group shot arrives, I move back, grab the ladder, and climb up.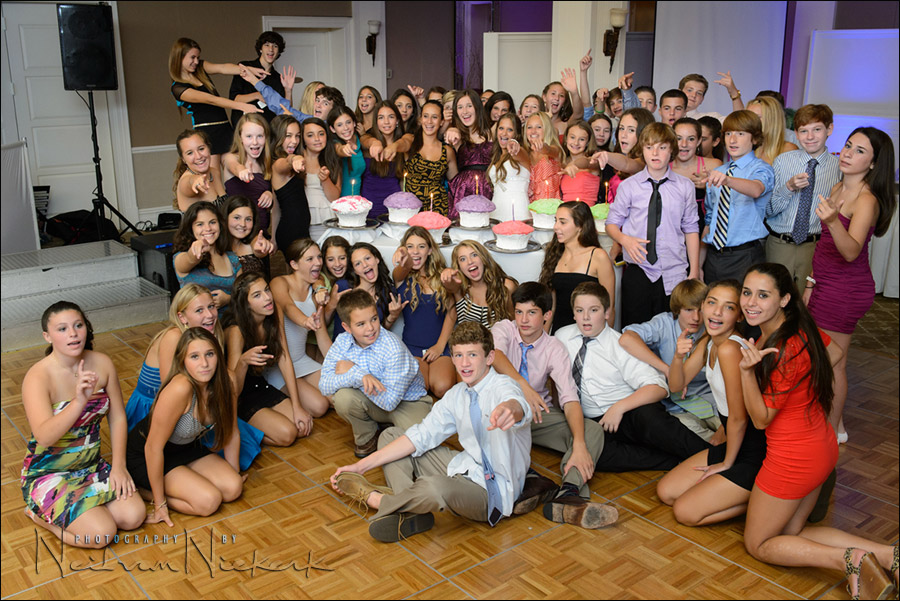 1/125 @ f/6.3 @ 1600 ISO
Nikon D4  (B&H);  Nikon 24-70mm f2.8G AF-S  (B&H)
on-camera bounce flash with Nikon SB-910 Speedlight (B&H)
I had a wider lens (Nikon 14-24mm f/2.8 ) on my other camera over my shoulder to switch to, if my workhorse 24-70 wasn't wide enough. No frantic groping for another lens in the camera bag!
Back to the original question: what do I do if I don't have enough light from my bounce flash?  Well, I do something else.
When I get that question, I always have to wonder if the question is meant as a challenge: "weeeeell, bounce flash isn't going to work all the time, you know!" … or whether people really do want to know. The answer seems so obvious?
So there it is – I improvise. I adapt. It's never just the one thing with lighting – on-camera bounce flash. That would be too limiting. And it would be negligent as an event photographer to arrive with just that, and then hope for the best. I always have more gear than would be necessary. Not just back-up gear, but faster lenses than my f/2.8 zooms, and more light than just a speedlight.
You have to be ready, and you have to be ready to improvise and adapt.
related links