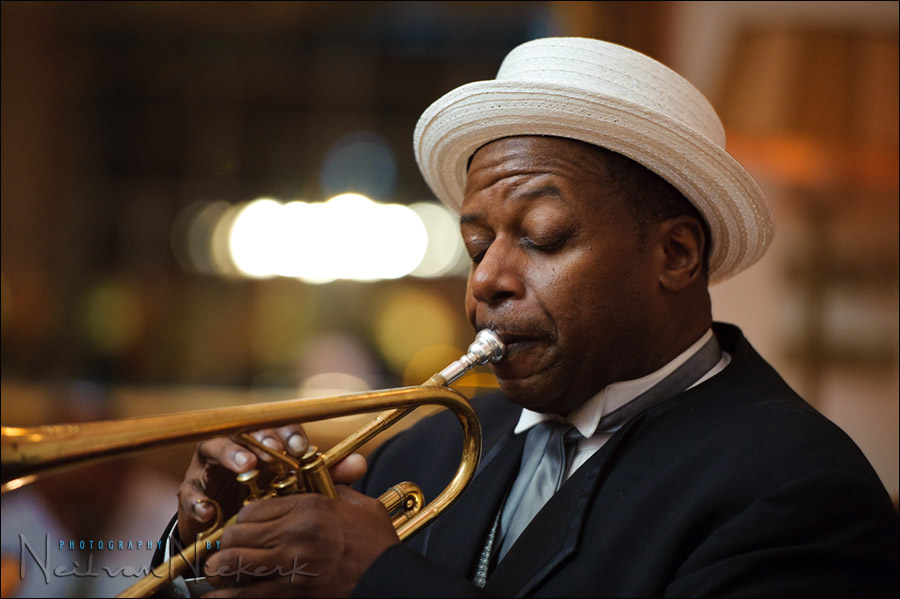 Bounce flash vs. Available light vs. Using the videographer's light
The expressive trumpet player in the band at a wedding – a simple portrait of this musician, sweetened with some bounce flash. The light on his face, is by now perhaps predictably, on-camera bounce flash with the black foamie thing.  Looking at the light pattern on his face, you'll see there was no direct flash of any kind.
camera settings:  1/60 @ f2.8 @ 2000 ISO // TTL flash
In comparison, here are a few other images.  One with no flash, so we can see the effect of the bounce flash.  Another image with just available light; and another image where I was able to use the light from the videographer's camera.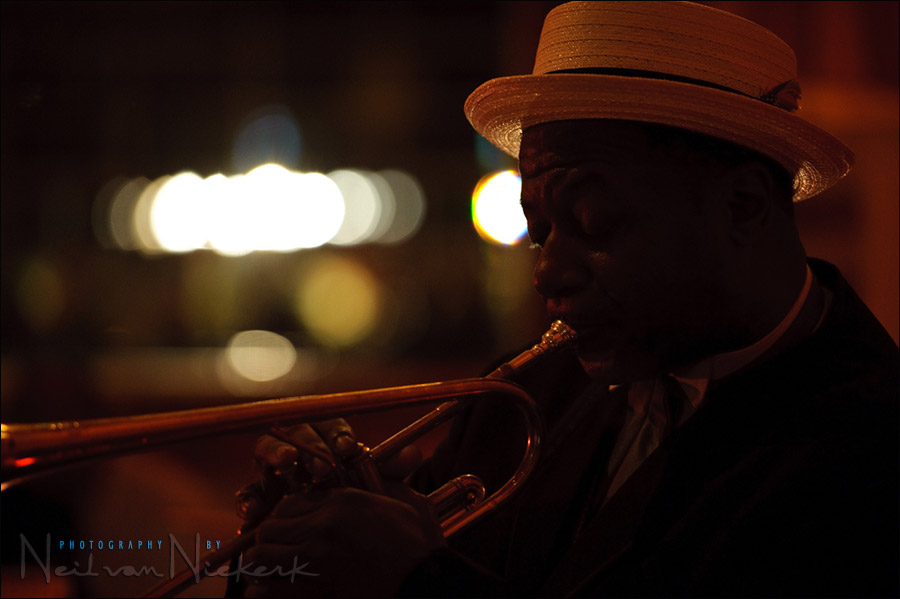 The same shot as at the top, but with the flash disabled. This is the available light as it appeared with the camera settings where I had used bounce flash – for comparison so you can see the effect the on-camera bounce flash had.
1/60 @ f2.8 @ 2000 ISO

Here is the same image, but with available light only, using the existing light in the room.  Now we're really pushing the limits, and a wide aperture on the 85mm lens, and the highest ISO on the camera (Nikon D3) that I'm still comfortable using.  The shutter speed is also fairly slow, and I had to take a series of images to get a few that are sharp enough. Despite the popular belief, 1/60th just isn't fast enough to hand-hold, and isn't fast enough either when your subject is moving.  And no, a  third stop jump to 1/80th wouldn't have magically solved that problem either, for those who are thinking of a shutter speed in relation to the focal length.
I changed the WB in raw post-processing to give me the most pleasant tones.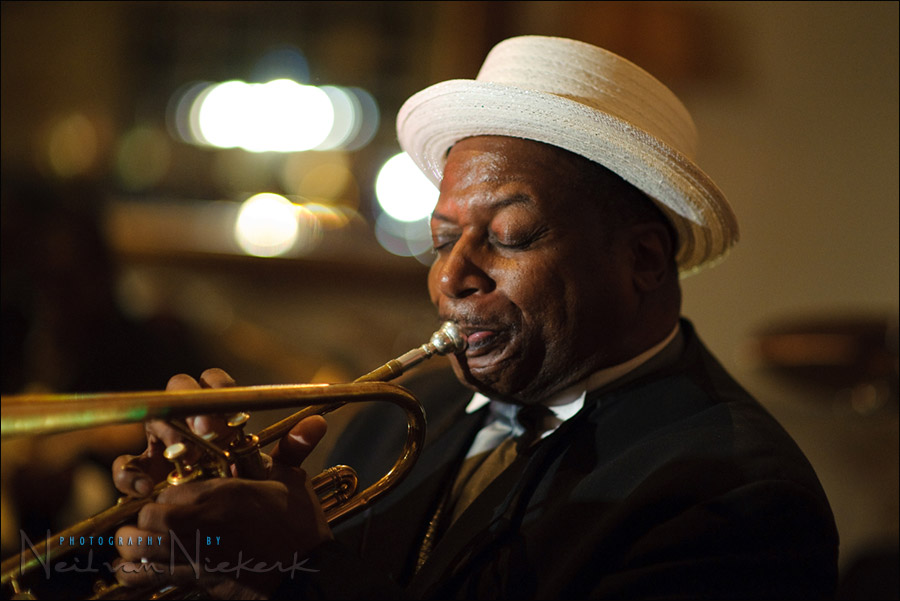 When the videographer's light came into play, I changed my settings again:
1/100 @ f1.4 @ 3200 ISO  //  no flash
I had to pull down the exposure by 0.6 stops in raw post-production.
---
---
Summary
So here are three different ways to use light to photograph an impromptu portrait – in this case, of a portrait of a band member playing at a wedding.
Personally, I like on-camera bounce flash here for allowing me control over my camera settings – i.e., less risk of camera shake, and I have more say in what the aperture and ISO should be. And the image looks quite natural – there's no indication that on-camera flash was used. But in a way, there's no wrong or right – as long as it looks good. And as long as you are able to consistently deliver the goods. Make it work!
On-camera flash modifier – the black foamie thing
Related articles on bounce flash photography