balancing flash and ambient exposure
This topic – balancing flash and ambient exposure – seems to one that many newer photographers struggle with. The big hurdle seems to be the basic starting point – how do you decide on the exposure for each?
I'd like to explore this topic a bit with this post.  The trigger for this was a question that someone emailed me regarding an image in my book on flash photography. Instead of answering the question directly, I thought that a wider answer might be more illuminating. We're still on that perpetual quest for more aha! moments. So let's see where we head with this. (I'll come back to the specific question and answer at the end of this.)
But why do we even want to add flash to a subject when the available light is soft?
The answer is that with flash we can control the direction and quality of light, and create a more dynamic image.
We don't necessarily just use flash to avoid camera shake and / or poor exposure in low light. We use flash to create better light on our subject. We can 'clean up' the light that falls on our subject. Or to create more dynamic and interesting light. It's about control. We decide.  So where do we start?
The simplest approach for me, when I work in fairly flat and even ambient light, is to under-expose the ambient light by a certain amount.  Then we add flash for correct exposure.  So how much do we under-expose the ambient light by?  Well, it depends. Usually a stop is good. Two stops can also work. If you've seen some of the images in fashion and music magazines where the subject is in a pool of light .. yet, the sunlit cityscape is darker, then that is because the photographer under-exposed the ambient light by 2-3 stops. Even in bright sunlight.   So we have some leeway.  That should ease some of the anxiety.
Under-exposing the ambient light by a stop, and then adding flash …  is but one scenario, and one recipe. This approach won't apply to every possible situation you might encounter .. but it's a good starting point in grasping that Big Question – where do we even start in balancing flash and ambient light?
Let's start of with an example where the previous method wouldn't work:
settings: 1/125 @ f3.5 @ 800 ISO
lighting:  Q-flash T5D-R, in TTL mode diffused by medium softbox to the right
(A speedlight in the softbox would've worked just as well here.)
Here's the image without flash, just so we have a reference ..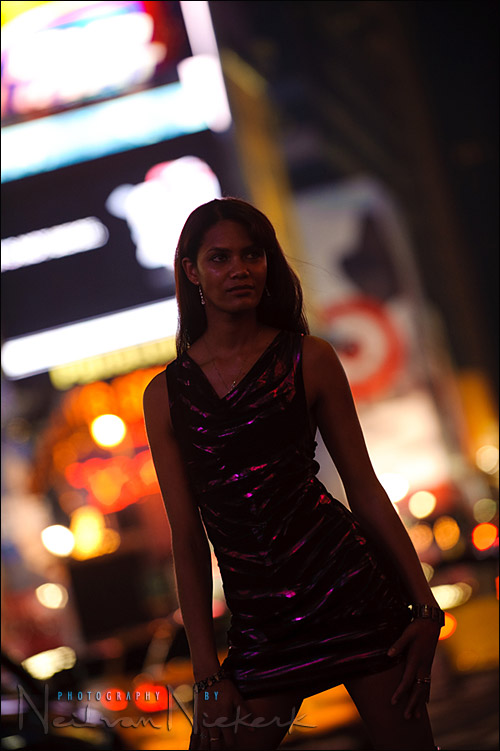 As we can clearly see here, without flash providing light on our model, she would be completely under-exposed … for the settings we chose.
With the amount of light there in Times Square, we would've been able to get well exposed images at a wider aperture and higher ISO, without the use of flash.
This image was taken with the Nikon 200mm f2 AF-S VR lens (B&H), using only the available light, as described in this previous article.
settings: 1/200 @ f2 @ 800 ISO
With this image here, I specifically placed the model so that enough light fell on her face to give me correct exposure at hand-holdable settings.
But with this image ….
… I positioned my model so that she would be in the dark relative to the brighter background.  This is purposely done, so that I can use flash without much concern for the ambient light giving weird color casts.  In deciding on my basic exposure, I simply needed the background to appear light enough.
I don't know how you'd use a handheld meter for that. The simplest would be to check your camera's built-in meter against a portion of the background that doesn't contain too many dark areas or overly bright areas.  We just want a general idea of our settings.  Then we take a few test shots (without flash), and check our camera's preview until we're happy with the way the background appears.  It's an iterative process with the starting point given to us by our approximate camera readings.
Then we add flash. We need f3.5 @ 800 ISO amount of flash.
We have two options here:
- manual flash, and then we'd use a handheld meter as the best way to meter the flash exposure.  (As opposed to just guessing and checking our previews.)
- TTL flash, where we allow the technology to get us close to correct exposure, and then we nudge the exposure up or down, according to what we see on our camera previews.  It's a bit more 'hit & miss' than using manual flash and a flashmeter, but it works and gets us to correct exposure fairly fast.  It might also be a more flexible way of shooting than using manual flash, if we want to change position and angles.
Simplicity itself.
There is a range of settings for which we'd get images that work.  If 1/125 @ f3.5 @ 800 ISO worked in this instance, we would've had success with images where the background is up to two stops brighter, and perhaps a stop darker.  We really have a wide margin here as to what would work … because our model is in the dark / shade compared to the background.  And we have a wide latitude as to what would be great exposure for the background.
You decide what you want to do and want to achieve.  You have options here.
It's a similar approach for a scenario like this:
I wanted the evening sky to register, and I wanted a bare minimum of detail to show in the background.
settings:  1/250 @ f3.5 @ 500 ISO
lighting:  Q-flash T5D-R, in TTL mode diffused by medium softbox to the left.
(Again, a speedlight in the softbox would've worked just as well in this case.)
Invariably when you work on location, you start off with your ambient exposure as your base exposure.  Whether you under-expose your background, or allow it to be brighter .. that's your choice.  But that's the starting point in figuring out how to balance flash and ambient light.  You start with the ambient exposure.
So with this image here,
- you take your background into account when you figure out your basic camera settings.
- You expose for the background, and then use flash (whether manual or TTL), to expose correctly for your subject.
Since I chose TTL flash exposure, the flash exposure will follow my choice of aperture and ISO.
If I had shot with manual flash, then I would've used a flashmeter to set my flash output to match my choice of aperture and ISO, for the particular distance I have my light set up.
The key point here is that, once again, a variety of combination's of settings would've given us great exposure for our background.  The images would've looked different from each other because of that … but they would all have worked.
And that should give you a sense of freedom already!
Now let's go right back to the start of this article:
A good recipe when we have about the same amount of available light on our subject and background … is to under-expose our ambient light by a stop or so … and then take up the slack with flash.
In this industrial looking setting, I had my mode l Toni jump exuberantly.  This is the image with the ambient light already under-exposed by around a stop.  But as you can see, the light is soft, but it is uneven.  Perfect for adding flash to give some control over the direction and quality of light.
settings:  1/320 @ f4 @ 400 ISO
Adding flash to this, we get this incongruous, if not slightly surreal image:
settings:  1/250 @ f4 @ 400 ISO
lighting:  Q-flash T5D-R, in TTL mode diffused by medium softbox to the left.
In this case again, I used TTL flash because of its simplicity.   You could've used manual flash for its consistency.  Your choice.
In all these examples, our starting point was the available light, and how we decided to expose for it.
Follow this link for more info about the softboxes and lighting equipment used in these examples.
Back to the question which triggered this article.  Angelo in Australia wrote:
Greetings Neil

I must first say what a well written and technical book you have released regarding on-Camera Flash. Like many of your readers, I have read the book twice. On each and every occasion I have learned something new about flash. My question points down the technical side of "how did you do it". Step by step process !!!

I understand the theory in what you are trying to achieve, however become lost when trying it out practically. By this I mean, how did you meter for the background light (ambient light), as far as its correct position on the meter scale. Under/over by 1.7 stops (canon)

Lets use the example of being in a church for a wedding or christening. The church has various colored plate glass windows (ie: yellow, red, orange etc), which allows both colored and natural ambient light. Add some tungsten bulbs also.  When you indicate you meter for the ambient light, how is this done. Are you underexposing by 1-2 stops and then bouncing flash from a wall etc. I know this seems vague, but let me further pick your mind.

In your book, page 42, plate 7-3 and was to use this as my example location.
Do I …
* meter for the brides dress, face, wall, brightest relevant area ?
* dial in 1-2 stops under in exposure ?
* adjust FEC ?
* test shot and chimp ?
* re-adjust FEC and chimp ?
ok, I think we've thoroughly covered the first part of Angelo's question.
Now, about the specific image in the book that he refers to:
This was to illustrate the how the shutter curtains affects your choice of possible shutter speeds to sync your flash at.  It's partially discussed in this article on understanding the effect of maximum sync speed.
Angelo, the reason for the round-about way of getting to your question, is that you asked about the image as if it was shot using TTL flash, and possibly using bounce flash techniques.
In this case, as with all the formal photos taken indoors at a wedding, I use off-camera flashguns and umbrellas.  I use the flashes in manual mode then.  That linked article goes more into the topic.  Check it out.
So I had to answer your question explaining how I would normally go about balancing flash and ambient light .. but it doesn't directly relate to that image.
With a set-up like that image – using manual flash with the formal photos at a wedding – I would mostly rely on my choice of shutter speed to allow the available light in.  With manual flash, shutter speed becomes your only independent control for ambient light.
So with that, your questions should be thoroughly answered, even though a few dots might still need to be connected. See if it all makes more sense now.  : )
More articles on off-camera flash …
newsletter / forum / workshops & seminars
Stay informed of new articles via the monthly newsletter.
Also join us on the Tangents forum for further discussions.
If you need more direct help or instruction on flash photography,
I do present workshops & seminars and also offer individual tutoring sessions.
If you find these articles interesting and of value, then you can help by
using these affiliate links to order equipment & other goodies. Thank you!